Last February 25 to 28, one of the largest European trade fairs dedicated to telecommunications and connected objects, the Mobile World Congress Barcelona, took place. This event brought together nearly 2,500 exhibitors from around the world and attracted more than 100,000 visitors over 4 days. The giants of the telecommunications industry such as Samsung, Huawei, LG or Orange were obviously present, but the show also included many start-ups and SMEs gathered under their national pavilion. This year 90 French companies were gathered under the emblem of French Tech.
During the great mass of the world of telecommunications, many trends emerge and take shape, here are those that have marked this edition of MWC 2019:
The arrival of 5G
The 5G is THE big trend seen on the MWC 2019! If you were there, you couldn't miss it. All phone operators were announcing the arrival of the 5G by 2020. Although regulatory authorities and governments are still considering how to deploy this new technology, operators are already ready for the auctions that will allocate frequencies to each of them.
BASIC OPERATION OF 5G
5G technology is based on the use of much higher frequencies of the spectrum than 4G. Today, 4G, like previous technologies, uses frequency bands below 6GHz, while 5G will use an expanded spectrum from 30 to 300 GHz, known as millimeter waves. These waves allow for a much higher throughput, but have a much shorter range. 5G will therefore rely on millimeter frequencies, but also on frequencies below them, to ensure wider deployment.
Unlike 4G, 5G will operate through MIMO (Multi user Multiple Input Multiple Output) antennas that will act as directional headlights, allowing the signal to be directed in a specific direction instead of being emitted in all directions. These antennas will allow the radio signal to be directed to users and equipment when needed, greatly reducing unnecessary waves around users.

Orange Diagram – difference in the emission of radio waves in 4G and 5G
WHAT ARE THE BENEFITS OF 5G?
The first improvement will obviously be the speed of information transmission, but above all the "low latency" of this transmission. This would increase from 10 to 1 ms, thus allowing the real-time interactivity that is necessary and indispensable for the success of autonomous cars or augmented reality.
In the world of IoT, 5G will enable the connection of countless objects without loss of performance. The low power consumption will also allow connected devices to operate for months or even years without human intervention.
WHEN WILL 5G BE AVAILABLE?
In France, the deployment of 4G is still underway in rural areas, while operators are already talking about the arrival of 5G. Some are even starting to test this technology in pilot cities as early as this year. With Japan having announced an operational rollout for the Tokyo Olympics in 2020, 5G should arrive in France at the same time. According to the equipment manufacturer Ericsson, by the end of 2024, 5G should cover 40% of the world's population.
In conclusion, 5G is not for the immediate future, but as always, operators are anticipating the technologies of the future several years in advance.
Indoor geolocation
Indoor geolocation has become one of MWC's key trends. Here's what you need to remember:
For many years, the field of geolocation has been dominated by GPS, whether in the corporate world or that of individuals giving a position with an accuracy of 10 to 5 meters.
But nowadays, users need more finesse in terms of precision, especially indoors. This is where GPS technology reaches its limits. To meet these needs, new technologies are gaining momentum.
INDOOR ASSET TRACKING, A CHALLENGE FOR THE INDUSTRY
In the era of Industry 4.0, economic players are seeking to rationalize and optimize every operation in their factories, particularly the location and tracking of equipment. Being able to easily identify and locate objects has become a priority.
It is important to know that an efficient indoor location service is based on the combination of 3 components: hardware (beacons, sensors, etc.), data processing software and connectivity. Concerning indoor geolocation, we can distinguish 3 main families of connectivity: WiFi, Ultra WideBand and Bluetooth. The latter is the most widely used, due to its maturity, both in terms of cost and performance.
MESH NETWORK AND ANGLE-OF-ARRIVAL TECHNOLOGY
Among the emerging technologies in indoor localization, two of them stand out: Mesh technology and Angle of Arrival (AOA) technology.
The Mesh protocol is a local area network (LAN), wireless local area network (WLAN) or virtual local area network (VLAN) that uses a decentralized connection method based on nodes connected to each other to form a "mesh". This technology eliminates the need for a router, which makes it easier to set up and therefore reduces infrastructure costs.
Mesh technology makes it possible to reach a very large communication range, as well as an indoor location accuracy of less than 10 meters.
Regarding the AOA technology (Angle Of Arrival), this technology exploits the angle of arrival of the signals emitted by a mobile tag to at least 2 surrounding antennas and thus makes it possible to obtain a real-time location (RTLS) with an accuracy of about ten centimeters.
However, unlike Mesh, AOA technology requires more investment in infrastructure due to its dual-antenna operating system.
These two indoor localization technologies will undoubtedly be developed and deployed on numerous projects over the coming year. Learn more about the different indoor localization technologies.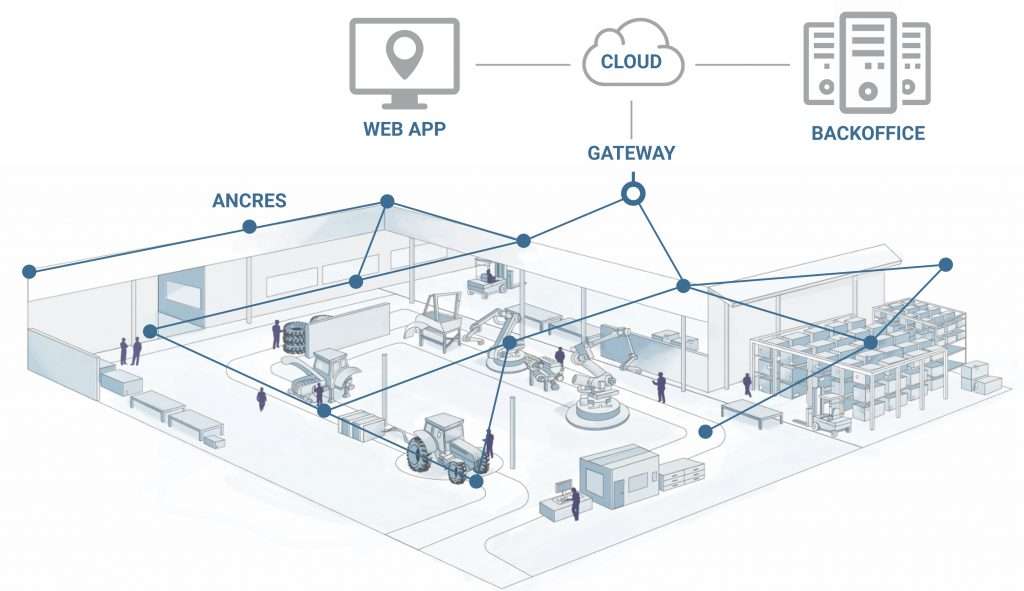 Operating diagram of Mesh by Wirepas technology
Artificial Intelligence, where do we stand?
Another trend seen at the Mobile World Congress Barcelona is Artificial Intelligence (AI). In combination with connected things, AI is growing and becoming more and more accurate and useful.
Indeed, now that the craze of the first years is over, artificial intelligence is now developed to be usable by consumers, and thus, bring them a real help. This is particularly the case in industry to optimize the tasks of workers and prevent them from wasting time on those with low added value.
A study conducted by the Mckinsey Institute has shown that manufacturers who have already adopted intelligent solutions have seen their margins increase by 3 to 15%. By 2035, AI is expected to increase business productivity by 40% according to Accenture.
Still, French companies have not yet moved up a gear and some preconceived ideas persist. Such as, for example, the fear of seeing jobs replaced by Artificial Intelligence. However, since the development of AI in the industry aims at enabling workers to gain in productivity and increase their skills and not to replace them, this image should have no reason to exist.
While companies in the secondary sector are still lagging behind, those in the telecommunications sector have already invested in this market.
At the Mobile World Congress, Orange, for example, presented its virtual assistant, Djingo, capable of interpreting and responding to customers via mobile applications such as "Orange Bank".
For Orange, however, an AI must meet certain criteria to be viable: it must be useful and adapted to many needs, it must use secure and reliable networks to avoid hacking, but above all it must be able to analyze the environment to best meet the needs of users.
Fulfilling all these criteria requires a significant investment in R&D, as well as a lot of agility in working methodologies, it is not surprising to see that start-ups represent today the main players in the AI market in France.
According to a study conducted by Tractica, the AI market is expected to be worth $71 billion by 2024 and $200 million by 2015.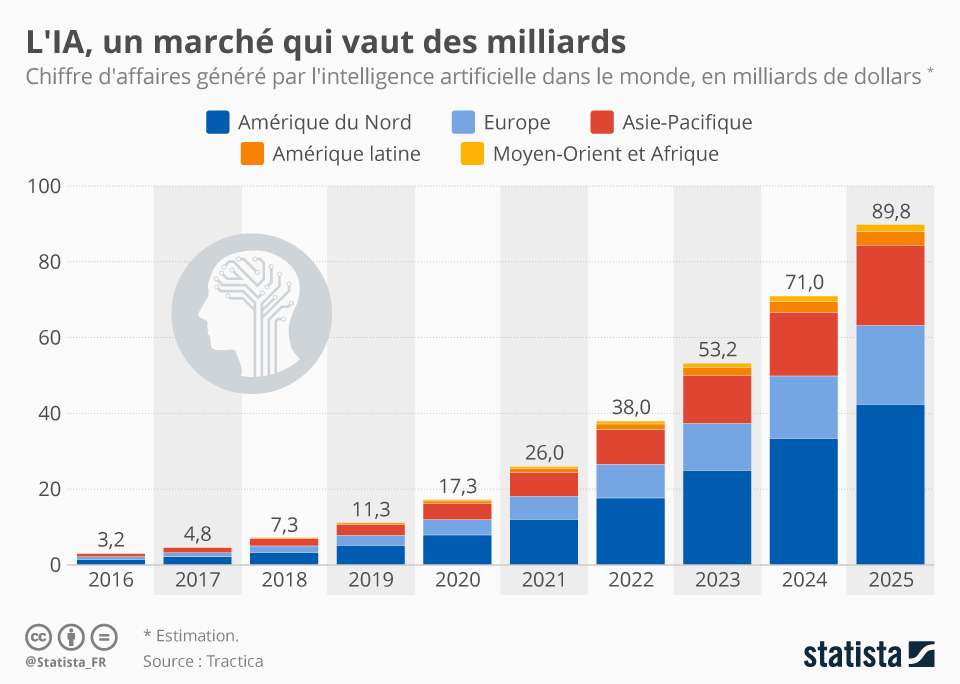 Evolution of the Artificial Intelligence market in billions of dollars (Source: Tractica)
Things to remember
Once again this year, the Mobile World Congress in Barcelona will have been a good observatory of trends and innovations. This exhibition allows the different actors (public and private) to have an overview of the telecommunications market and connected devices.
If there were 3 things to remember it would be first of all, the technical advances of 5G and the projection of a deployment within a few years, the development of indoor geolocation solutions, more and more sought-after by industrialists and finally, Artificial Intelligence representing a very promising market, but still underdeveloped in France.