Industrial Bluetooth temperature sensor
Do you want to integrate industrial Bluetooth temperature sensors into your IoT solution?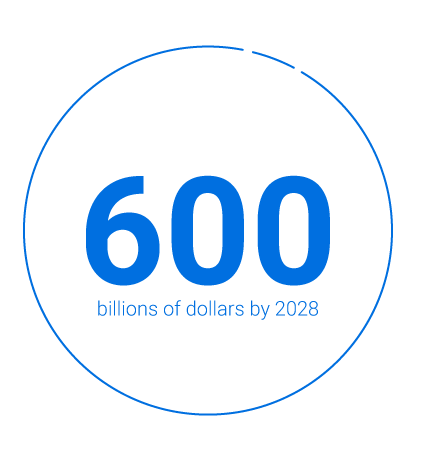 Cold logistics is a very dynamic and highly regulated global market that is expected to reach more than 600 billion dollars by 2028 (according to a study by the American consulting firm Grand View Research). Ensuring the traceability of the cold chain is a major challenge for industrial companies. Indeed, whether for public health or economic reasons, companies need to secure the transport and storage of their goods. In the food industry as well as in the medical and pharmaceutical sectors, poor management of the cold chain represents several billion dollars in losses every year.
In order to secure the goods, the transport and logistics actors are equipped with temperature monitoring solutions. To meet this need with reliability, we recommend our Bluetooth industrial temperature sensors.
Our IoT experts will help you choose the right products for your solution.
Which ELA Innovation Bluetooth temperature sensor to choose?
ELA Innovation temperature sensors are perfectly adapted to severe industrial environments. Their wide measurement ranges, industrial calibration and various certifications allow ELA Innovation Bluetooth temperature sensors to ensure exceptional measurement accuracy of up to 0.5°C.
Type of sensor
Temperature range
Accuracy
Autonomy
Datalogger
Case size
Waterproofing
Certificates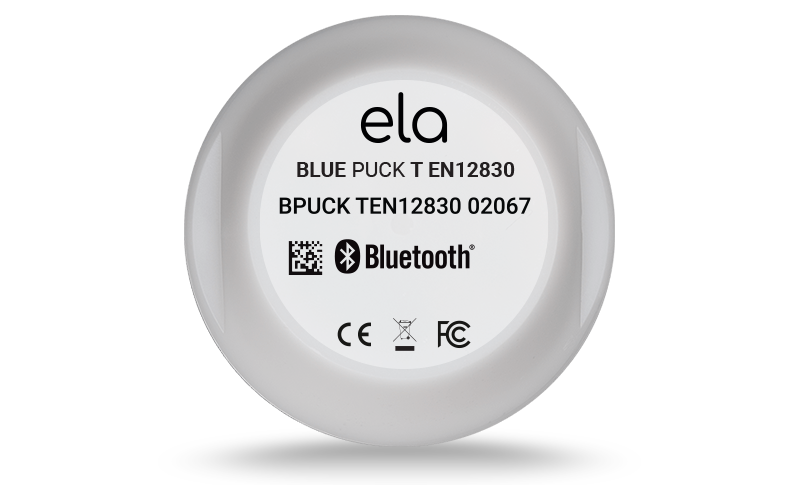 Temperature
-40°C to +85°C
Up to ± 0.5°C
Up to 18 years
Up to 4000 values
Ø 57 mm
IP68 / IP69K
EN12830, EN13486, CE, UK CA, FCC, ISED, RoHs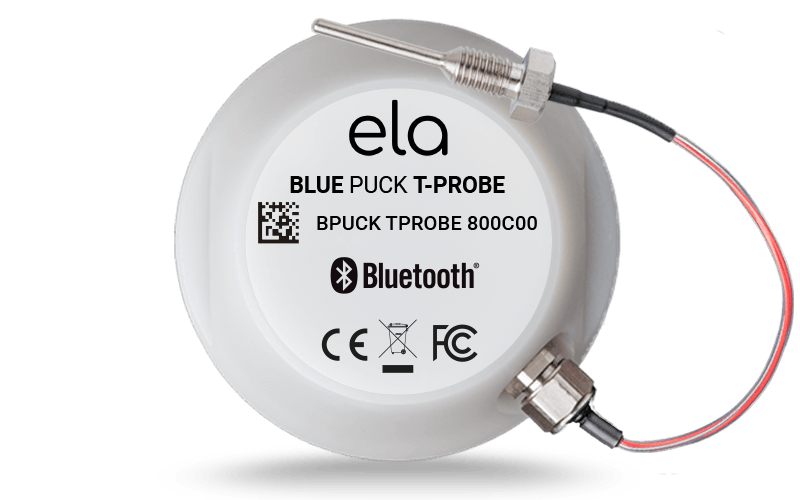 External probe temperature
-80°C to +200°C
Up to ± 0.5°C
Up to 15 years
Up to 4000 values
Ø 57 mm (1m probe cable)
Probe IP68/ Housing IP65
EN12830, CE/ UK CA, FCC, ISED, RoHs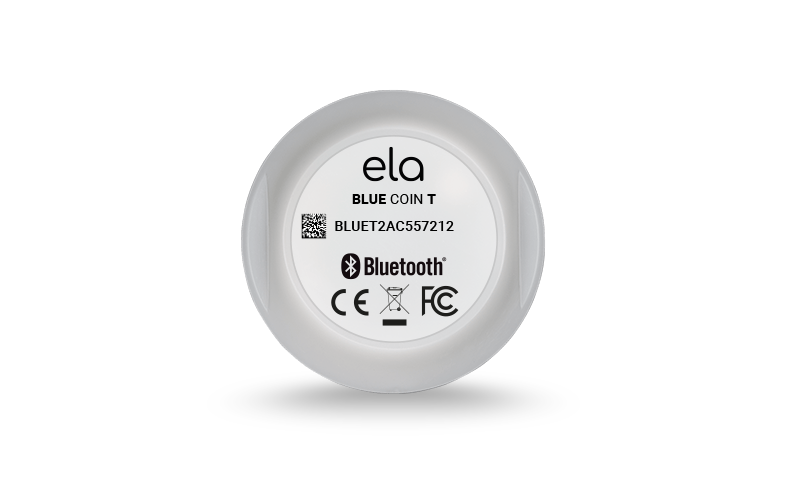 Temperature
-30°C to +70°C
Up to ±1°C
Up to 5 years
Up to 4000 values
Ø 36mm
IP68
CE, FCC, ISED,
RoHS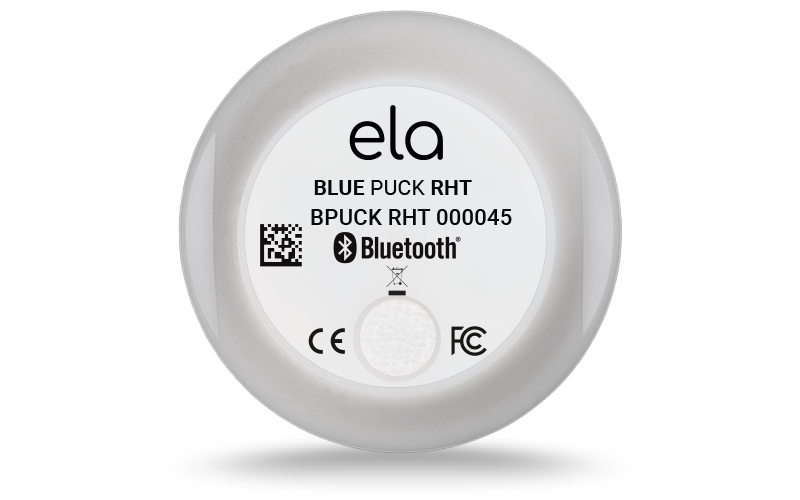 Temperature & humidity
-40°C to +85°C
Up to ± 0.5°C
Up to 18 years
Up to 4000 values
Ø 57m
IP65 RATED
CE, FCC, ISED,
RoHS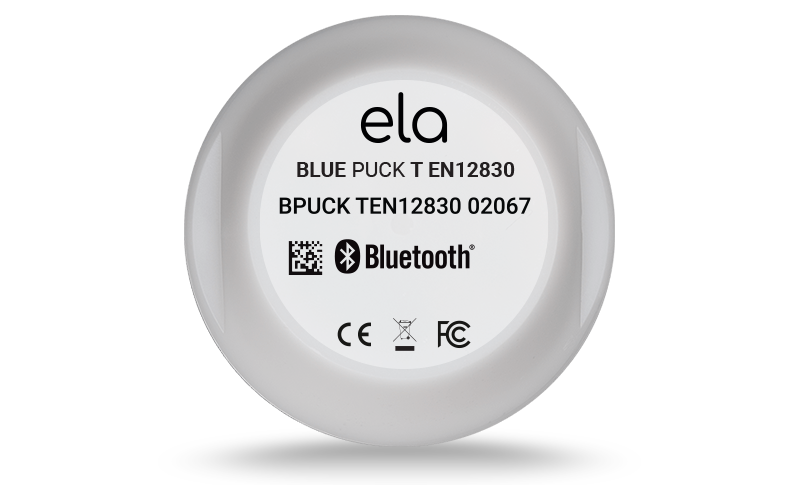 Temperature
-40°C to +85°C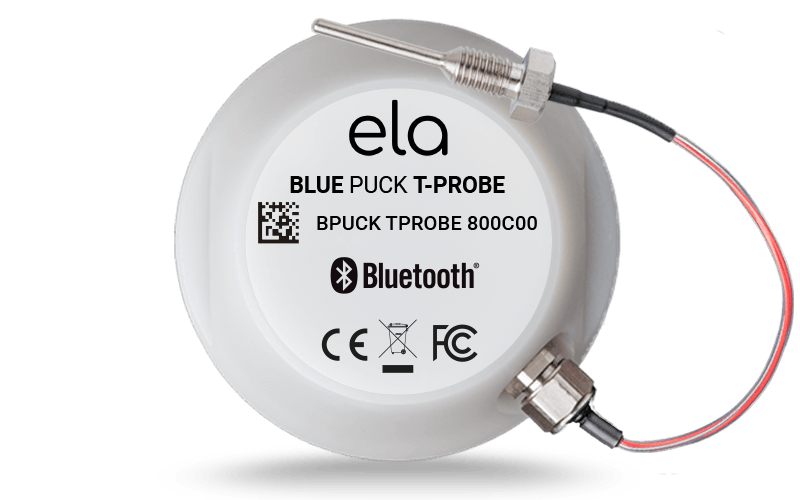 External probe
-80°C to +200°C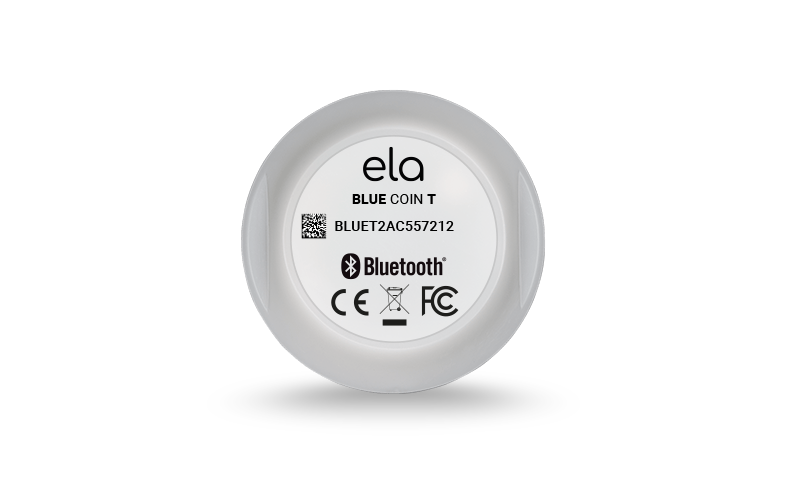 Temperature
-30°C to +70°C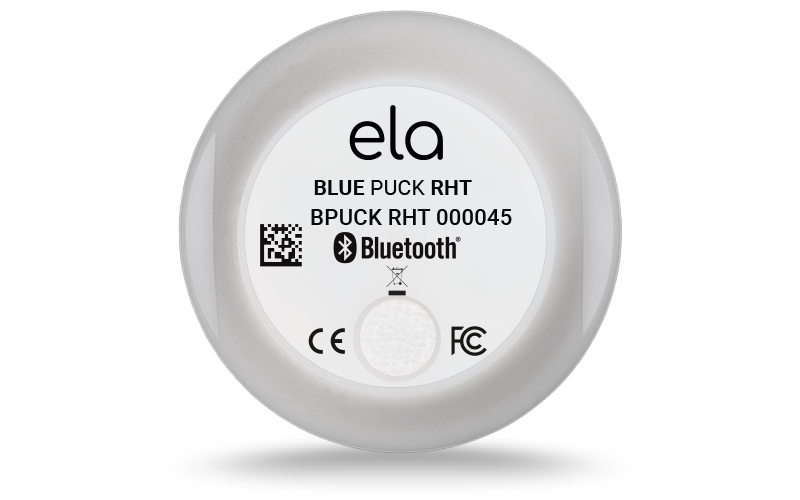 Temperature & Humidity
-40°C to +85°C 
Need to have your temperature sensors calibrated?
ELA Innovation offers two calibration services for temperature sensors:
COFRAC accredited calibration and COFRAC certified calibration.
What is an industrial Bluetooth temperature sensor?
An industrial Bluetooth temperature sensor is a measuring device that provides information about the temperature of an environment by converting a temperature value into a readable electrical signal. Also called temperature recorders, temperature sensors are used in many fields such as transport and storage of temperature-sensitive goods (food, pharmaceutical, etc.), logistics or smart-building.
What is the use of industrial Bluetooth temperature mesurement?
Using Bluetooth Low Energy technology, ELA Innovation industrial Bluetooth temperature sensors are 100% autonomous. Their battery operation allows remote temperature monitoring thanks to Bluetooth connectivity.
This open protocol, integrated into all smartphones and tablets, allows for very rapid collection of the data history (datalogger) recorded by the sensors and for real-time visualization on a business application. This type of wireless sensor is particularly suitable for temperature monitoring in the field of transport, logistics or Smart-Building.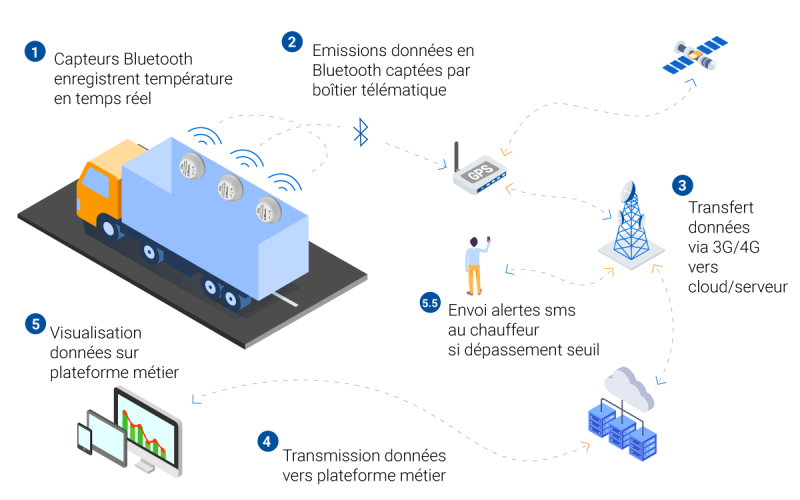 Operation of the temperature sensors in transport
Temperature monitoring for transport
Transport is often the weak link in the cold chain. Indeed, temperature-controlled transport is a source of sanitary and economic risks requiring a precise supervision of transport conditions.
The use of a Bluetooth sensor will facilitate temperature readings and allow transporters to make the transport of temperature-sensitive goods more reliable and secure. To do this, simply attach the sensor inside the refrigerated trailer (1), isothermal boxes or refrigerated boxes, so that it can measure the ambient temperature.
The sensor can record and time-stamp up to 4,000 values and will transmit at regular intervals to be detected by the telematics box in the driver's cab (2). This multi-connectivity box will be able to receive the sensor data via Bluetooth and transmit it to the customer's cloud/server via 3G/4G. (3) Data are then transferred to the business application.(4)
The business application (PC & mobile) will then allow to visualize the data (5) in the form of graphs and dashboards. Temperature thresholds can be defined according to the needs, allowing the truck driver to be alerted in real time if the temperature is exceeded. (5.5)
The storage of heat-sensitive goods, whether food or pharmaceutical, is highly regulated and therefore requires special attention.
Whether in cold rooms or in refrigerators (supermarkets, pharmacies, etc.), temperature control is necessary to ensure product integrity.
For this purpose, each storage enclosure must be equipped with an industrial temperature sensor that will measure the temperature of the storage environment.(1) With very wide measuring ranges, these sensors are perfectly suited for the storage of pharmaceutical products such as vaccines, requiring extremely low storage temperatures down to -80°C. In this case, the use of an external PT1000 probe is recommended.
Unlike transport, the data will be collected (2) by a gateway or an industrial router with Bluetooth connectivity to Ethernet or cellular networks. The temperature readings are then uploaded to the customer's cloud/server.(3) The data is then transferred to the business platform. (4)
The manager will be able to view the data history on the business application, in the form of graphs and dashboards. (5) SMS/email alerts can be set up when thresholds are exceeded. (5.5)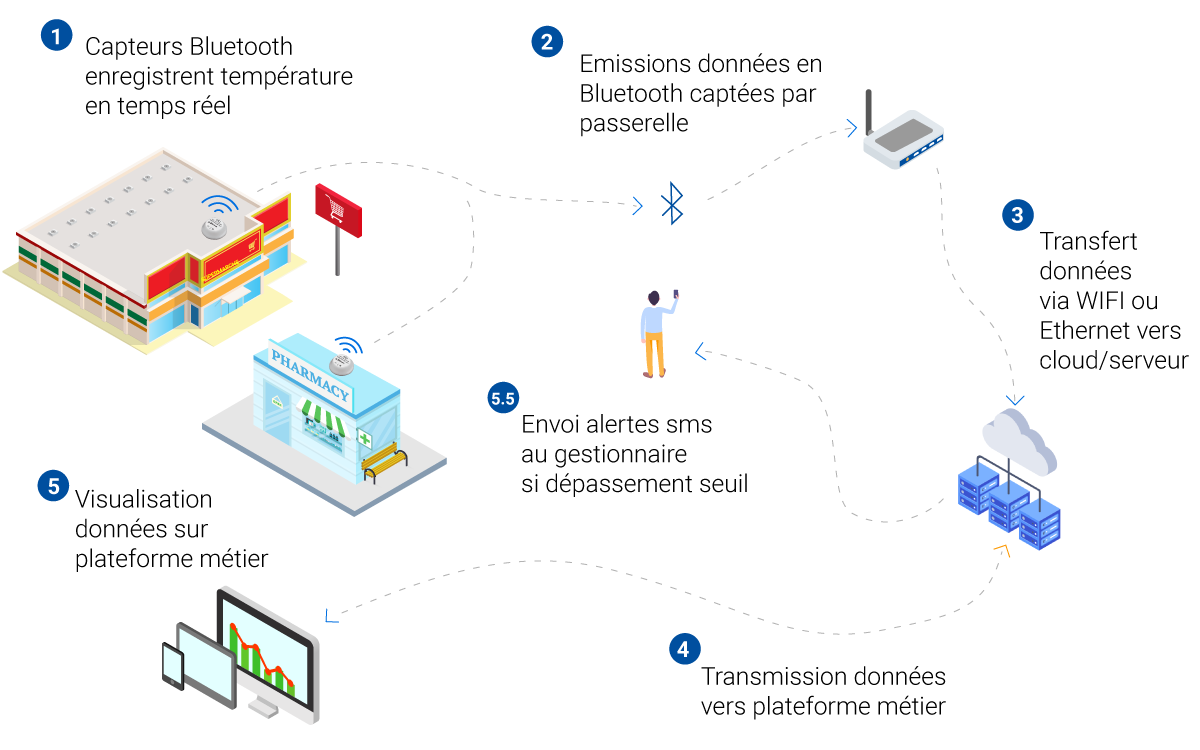 Operation of the temperature sensors for goods storage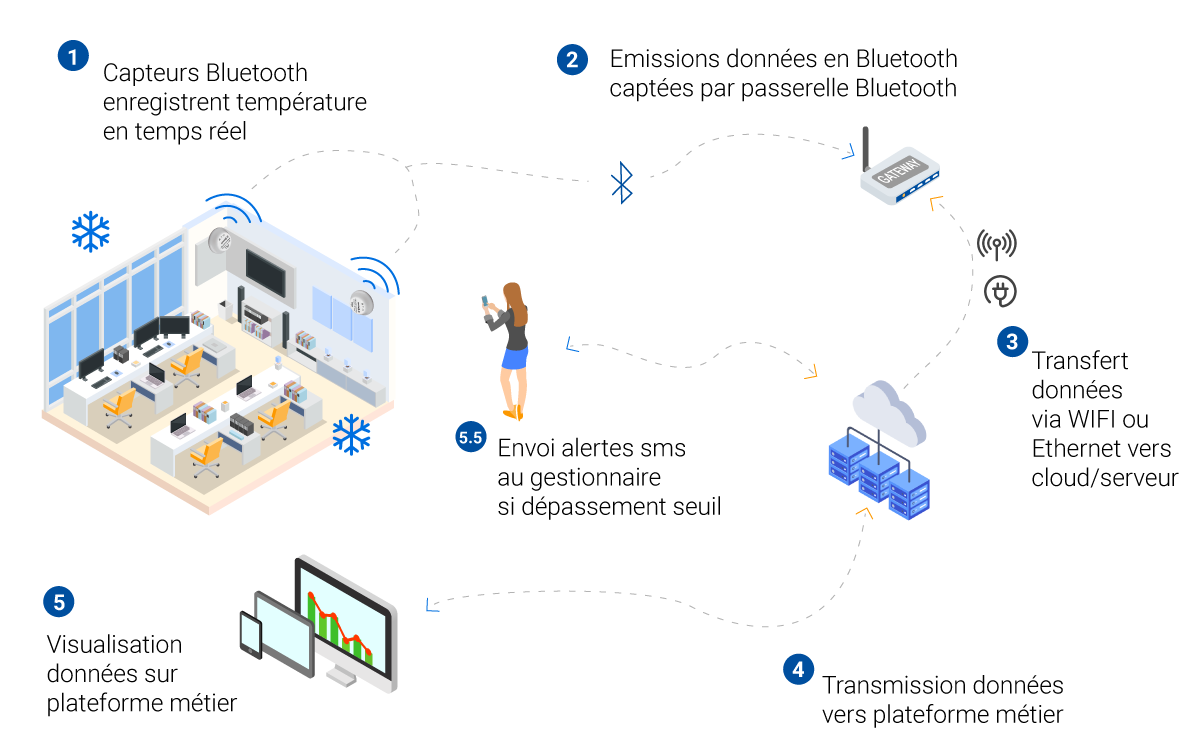 Operation of the temperature sensors in Smart-Building
In recent years, the concept of smart-building has become increasingly popular. This concept is based, among other things, on the collection of data such as temperature, humidity, luminosity and air quality. The use of Bluetooth sensors will allow to optimize consumption, to warn in case of anomaly, to manage readings and invoices, but also to ensure the comfort of the occupants.
By equipping buildings with Bluetooth temperature sensors (1), it will be possible to measure the ambient temperature and thus regulate the use of air conditioning or heating.
As the sensors are autonomous and operate via Bluetooth, they can be configured and updated remotely. The data collection will not require any connection to the electrical network, which facilitates their installation.
The temperature values are transmitted via Bluetooth (2) by the loggers to a gateway or an industrial router with Bluetooth connectivity to Ethernet or cellular networks. The gateway (or router) installed near the sensors, will then transfer the data to the customer's server/cloud. (3)
The data stored on the cloud or the client server will be transferred to a business application (4) and can be consulted by the building manager in the form of graphs and dashboards. (5) SMS/email alerts can be configured when thresholds are exceeded. (5.5)
Transport and storage of food products
Transport and storage of pharmaceutical products
Temperature monitoring in buildings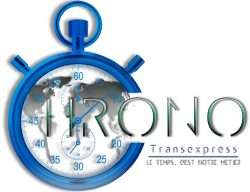 "We transport sensitive and very expensive medical products. The data feedback on the Road Link platform from the temperature sensors allows us to properly monitor our deliveries."
What standards must an industrial temperature sensor meet?
The transport and storage of heat-sensitive products are subject to different regulations that may vary from country to country. The stakes linked to the traceability of the cold chain are very high, both in terms of public health and economy. In this context, the monitoring of the foodstuffs conservation temperature is an imperative for all the actors of the sector. It is important to note that the industrial temperature sensors used are subject to different standards. At the European level, there are two main standards for temperature recorders: EN12830 and EN13486.
The standard EN12830 – 2018, applies to temperature recorders used in the transport and storage of heat-sensitive goods. Its purpose is to specify the technical and functional characteristics that recorders must have to ensure that temperatures are maintained and recorded correctly.
It is the user's responsibility to ensure that the sensors used comply with this standard. It is important to note that in some cases, the use of sensors conforming to this standard is mandatory, such as for the transport and storage of frozen food products.
The EN13486 standard regulates the periodic verification of temperature recorders. Over time, like all measuring devices, industrial temperature sensors can drift and lose accuracy. To ensure the best possible accuracy, it is necessary to have all sensors checked regularly.
This is called calibration. Although verification is not mandatory in many cases, the European Commission's Regulation No. 37/2005 of January 12, 2005 requires periodic verification for the transport and storage of frozen food products.
Learn more about industrial Bluetooth sensor calibration
The calibration of temperature sensors allows to ensure their accuracy of measurement and therefore, the integrity of the goods transported or stored. This procedure is regulated and must be done under specific conditions.
How to calibrate an industrial temperature sensor?
The calibration of an industrial Bluetooth temperature sensor can be done by a metrology laboratory or in the factory, by the sensor manufacturer. This procedure is carried out using measurement standards accredited by a certification body such as COFRAC.
The data transmitted by the sensor to be controlled will be compared to those provided by the reference standard maintained under the same temperature conditions. If there is a difference in the data between the sensor and the standard, the sensor will have to be calibrated.
During the calibration, several measuring points can be analyzed if a sensor is used at different temperatures.
How often should an industrial temperature sensor be calibrated?
Depending on the accuracy requirements and the nature of the goods stored and/or transported, the user must ensure that his temperature sensors are properly calibrated.
The frequency of calibration is determined by the user. However, it is good practice to refer to the sensor manufacturers for their recommendations. In general, it is recommended to calibrate the sensors every 2 years, or even every year depending on the use made of them.
COFRAC accredited or COFRAC certified calibration?
The accredited calibration will be performed by a metrology laboratory certified ISO 17025 by COFRAC. The control can be single or multi-point and the values of the temperature points can be defined at the order. At the end of the procedure, a report will be provided for each sensor. This report also called "calibration certificate" has an international validity.
The COFRAC calibration can be performed in the factory according to the EN13486 standard and using COFRAC accredited measurement standards. This calibration mode can also be single or multi-point. Unlike the COFRAC accredited calibration, a single report will be provided for the entire batch of sensors.
What is the international validity of the COFRAC calibration certificate?
When the calibration is COFRAC accredited, a calibration certificate is issued for each sensor by the ISO 17025 certified laboratory that performed the verification.
In order to promote international trade, the main certification bodies such as COFRAC in France, DAKKS in Germany and A2LA in the USA have joined forces to form an international organization called ILAC (International Laboratory Accreditation Cooperation).
This organization is at the origin of an international agreement on the mutual recognition of the ISO/IEC 17025 standard, the MRA (Mutual Recognition Arrangement).
The ILAC MRA, therefore, gives international validity to calibration certificates performed and issued by an ISO 17025 accredited metrology laboratory.
How to install ELA Innovation's wireless Bluetooth temperature sensors?
Thanks to the range of accessories developed by ELA Innovation, the installation and use of the sensors is ultra simple and fast. The different mounting systems are secured for industrial use without the risk of the beacon becoming detached.
For products in PUCK and COIN format, there are multi-fixation holders called PUCK Holder Sticker and COIN Holder Sticker respectively.
These accessories consist of a beacon holder, a high performance double-sided adhesive, a locker and a TORX security screw. The locker and the screw allow to secure the beacon in its holder. This is particularly suitable for use that may generate shocks or vibrations.
Thanks to their multi-fixing system, the PUCK and COIN can be installed in 3 different ways on many materials (concrete, wood, plastic, metal, etc.):
Glued with double-sided adhesive
Screwed with 2 screws
Attached with a nylon clamp
Subscribe to our newsletter.
Keep up to date with the latest
IoT news from ELA Innovation.
<!--
*
--> <!--
*
-->
<!-- -->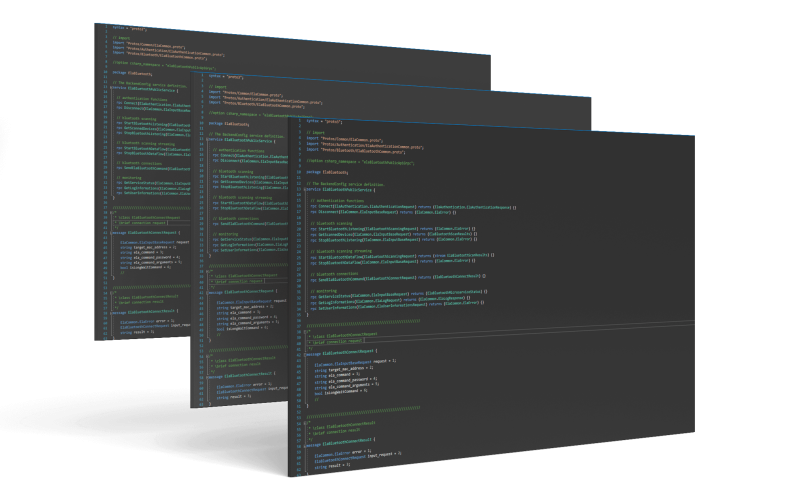 Discover 1 software development kit (SDK) including microservices, APIs, code samples using these APIs and the associated documentation. But also available are examples of code compatible with different development environments.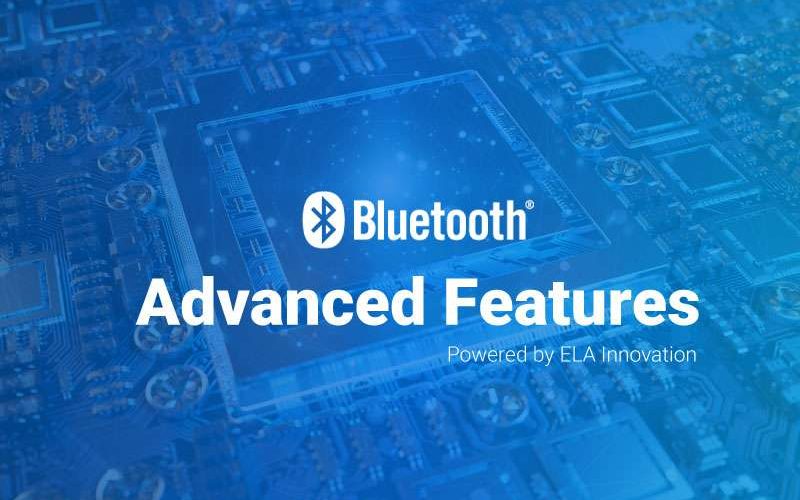 Bluetooth Advanced Features
Thanks to the Bluetooth Advanced Features option, you will accelerate the deployment of your business solution and guarantee your customers' satisfaction. This service allows you to customize 100% the frame of your ELA Innovation beacons & sensors. The configuration is done by our factory teams.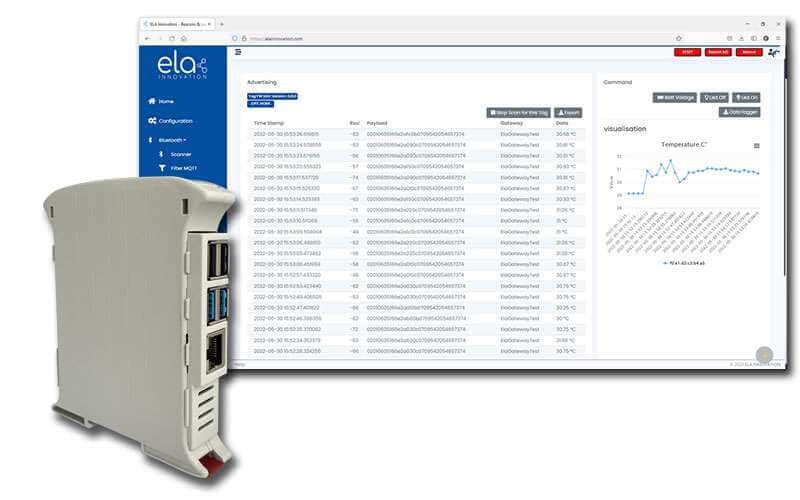 Discover the Web App of our BLE Gateway allowing you to configure your IoT network, scan and read in real time your BLE devices, visualize and download their data and send commands. This Gateway is ideal for testing ELA Innovation products.