Do you want to integrate the PIR presence sensor into your IoT solution?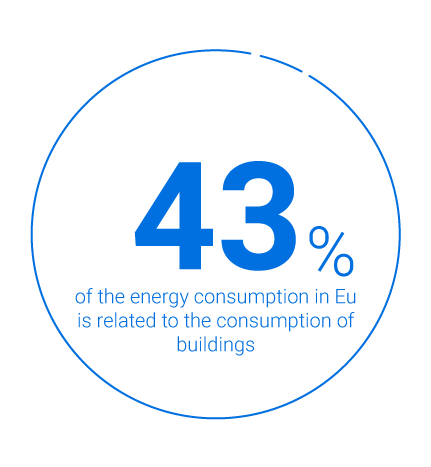 The need for companies to reduce their energy consumption, whether it is for sustainable development or because of rising prices, has become a major issue for them. To meet this challenge, IoT players offer many connected solutions to make buildings more intelligent. For a few years now, we have been talking about "Smart-Building", a field that continues to grow. According to an Xerfi study, by 2023, the smart-building market is expected to reach nearly $400 million USD.
The health crisis we have experienced in recent years has pushed many companies to accelerate their transformation. Workspace management, energy consumption optimization, and building security are among the main concerns of companies.
To support your customers, we recommend that you integrate our PIR presence sensor into your Smart-Office solution. Discreet, robust and easy to install, this IoT sensor meets many needs identified by building managers.
Which PIR presence sensor to choose?
We have developed our PIR presence sensor with two technologies: Wirepas Mesh and Bluetooth Low Energy. The choice of one or the other technology will depend mainly on the type of IoT infrastructure you want to deploy and on the expected autonomy of the sensors: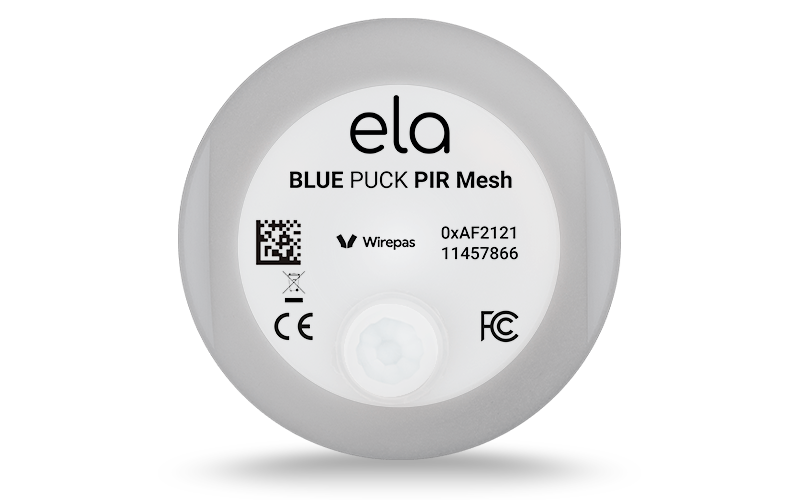 Up to 3 years
Wirepas Mesh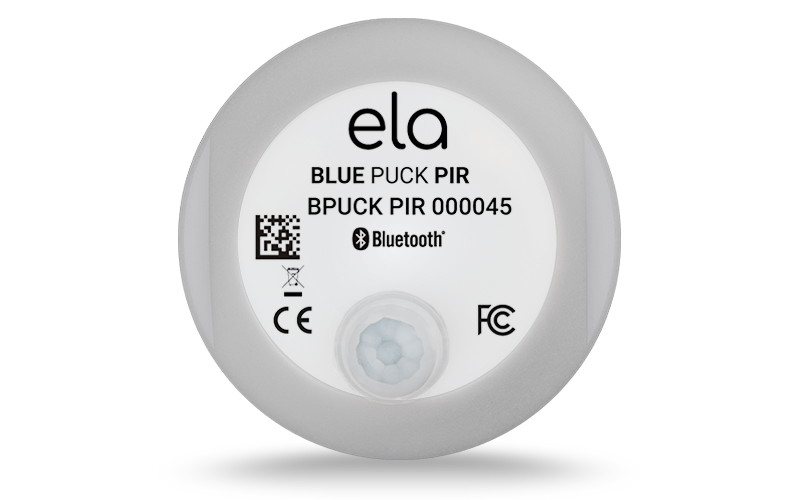 up to 6 years

Bluetooth Low Energy
Our IoT experts will help you choose the right products for your solution.
What is the purpose of a presence sensor?
The PIR sensor is capable of detecting any presence in its infrared radiation, and has long been used in the field of intelligent buildings. By using a connected sensor, the managers of tertiary and industrial buildings will be able to control and optimize the management of resources, whether human, material or energy.
Management of office and meeting room occupancy rate
With the development of remote working, many companies are implementing "Flex Office" solutions. In this case, a presence sensor fixed under each workstation and in each meeting room, will allow to know if a space is free or occupied and to reserve it in advance via a PC or mobile application.
For a long time, companies have been protecting and securing their buildings against malicious intrusions by equipping themselves with alarm systems often combined with infrared presence sensors. By installing Bluetooth sensors in the areas to be secured, it will be possible to be alerted in real time when a presence is detected, but also to trigger audio and visual alerts.
Lighting and temperature management
The management of energy consumption in buildings is a regulatory issue for companies. Among the resources to be optimized, lighting and ambient temperature can be monitored by detecting the presence of people in the different spaces. Managers can thus set lighting and temperature according to the occupancy rate of the different spaces. This will contribute to improving the quality of life at work for employees while reducing energy costs.
Intrusion detection in
secure areas
Management of lighting and
temperature
How does a PIR presence sensor work?
A PIR presence sensor is a pyroelectric infrared sensor with passive detection. It is able to detect the presence of a person, an animal or an object, even in the dark. Indeed, it reacts to the heat emitted by the elements present in its radiation. Although humans cannot see these rays, everything around us, even inanimate objects, emits a certain amount of infrared radiation. Because the PIR sensor is calibrated to the ambient heat of the room, it can determine when a human enters the area.
On the infrastructure side, the presence sensors are easily installed in the various spaces to be monitored, such as meeting rooms, offices or even places where people pass through. They are configured to detect a presence according to a distance (4 possible sensitivity thresholds). This means that if the sensor is set with a detection distance of 1m, anything within 1m of it will not be detected. When it detects a presence in its field, the Blue PUCK PIR will change "state" from 0 to 1 (0 = unoccupied and 1 = occupied). The sensor transmits at regular intervals to communicate its status to nearby gateways (access point, router, smartphone, etc.).
These gateways will transfer the data from the IoT sensors to the client's servers via Ethernet or Wifi. The data can then be viewed on a business IoT platform (PC or Smartphone) in the form of dashboards and history. Alerts can be set up to trigger intrusion alarms.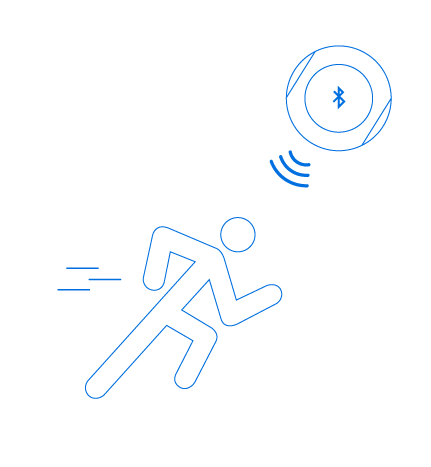 Why choose ELA Innovation's wireless presence sensor?
True presence detection system, our PIR sensor is the essential accessory to optimize the management of tertiary and industrial buildings.
100% autonomous: its battery operation offers up to 6 years of autonomy and requires no wiring.
Easy and fast to install: ultra simple to install thanks to the different means of fixation, this sensor can be fixed on any type of surface. The deployment of several hundred sensors can be done in record time.
Discreet: its ultra-compact size and sleek design make this presence sensor very discreet and non-intrusive.
100% anonymous and secure: this sensor emits a hexadecimal data frame that does not include any personal data, which ensures total anonymity of the information sent to the client's servers.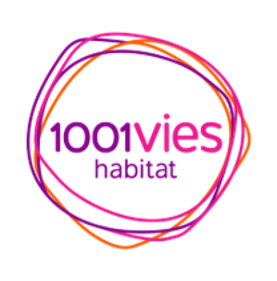 "The integration was very easy. The support teams were always there to answer our questions."
How to install ELA Innovation's wireless PIR sensors?
Thanks to the range of accessories developed by ELA Innovation, the installation and use of the sensors is ultra simple and fast. The different mounting systems are secured for industrial use without the risk of the beacon becoming detached.
For products in PUCK format, there are multi-fixation holders called PUCK Holder Sticker.
These accessories consist of a sensor holder, a high-performance double-sided adhesive, a locker and a TORX security screw. The locker and the screw allow to secure the beacon in its holder. This is particularly suitable for use that may generate shocks or vibrations.
Thanks to their multi-fixing system, PUCKs can be installed in 3 different ways on many materials (concrete, wood, plastic, metal, etc.):
Glued with double-sided adhesive
Screwed with 2 screws
Attached with a nylon clamp
Subscribe to our newsletter..
Keep yourself informed each month of the latest
IoT news from ELA Innovation.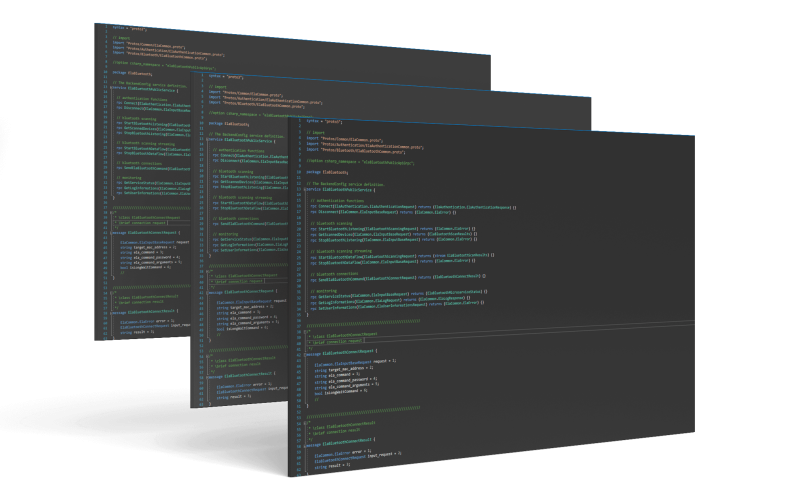 Discover our software development kit (SDK) including microservices, APIs, code samples using these APIs and the associated documentation. But also available are examples of code compatible with different development environments.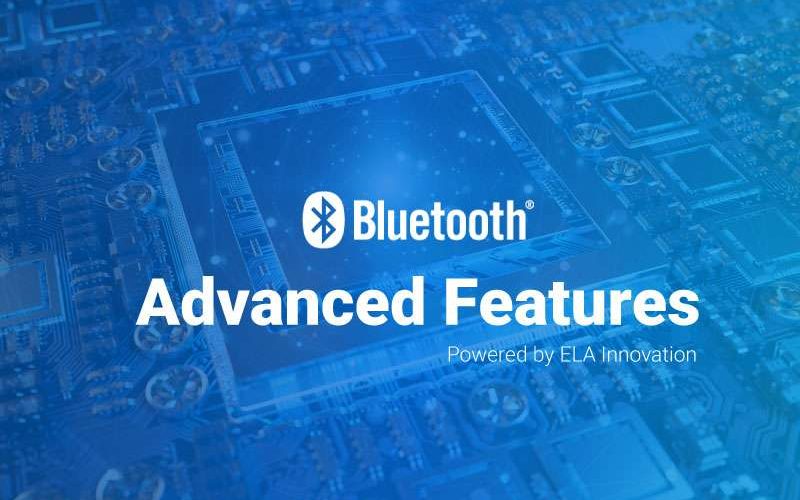 Bluetooth Advanced Features
Thanks to the Bluetooth Advanced Features option, you will accelerate the deployment of your business solution and guarantee your customers' satisfaction. This service allows you to customize 100% the frame of your ELA Innovation beacons & sensors. The configuration is done in factory.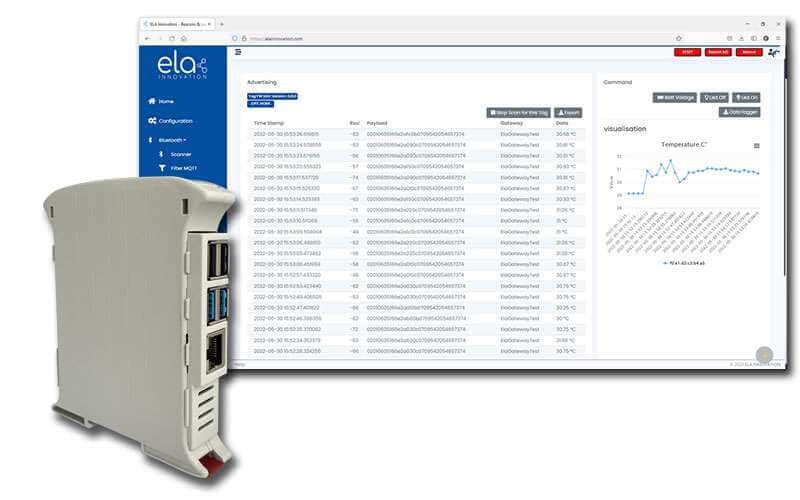 Discover the Web App of our BLE Gateway allowing you to configure your IoT network, scan and read in real time your BLE devices, visualize and download their data and send commands. This Gateway is ideal for testing ELA Innovation products.