You may know what Bluetooth is but, do you know the difference between Bluetooth and Bluetooth Low Energy ?
Developed by the Swedish manufacturer Ericsson in 1994, it was only 5 years later, in 1999, that the first specification (1.0) of Bluetooth was released. Supported by the Special Interest Group (SIG), composed of several major companies such as IBM, Intel, Toshiba, Microsoft and Motorola, as early as the early 2000s Bluetooth wireless communication technology experienced a strong deployment in many household devices starting with smartphones. However, it was not until 2010 that the Bluetooth 4.0 version appeared, incorporating the Bluetooth low-power variant known as Bluetooth Low Energy (BLE), Bluetooth LE or Bluetooth Smart.
In this article, you will learn more about the differences between Bluetooth and Bluetooth Low Energy (BLE), the advantages and disadvantages of each of these variants, but also how they work. Here we go!
Definition of terms
What is Bluetooth ?
The Bluetooth we use in our daily lives to transfer data such as music, photo, video etc., is defined as a short-range wireless connection technology, allowing digital devices to be connected to each other. It can be used with different devices: a phone, a computer or a wireless headset/earphone. The wireless communication protocol is designed to automatically connect devices quickly and without any cables.
Bluetooth has thus enabled a considerable technological advance. Indeed, mobile phones have evolved hugely to interact with each other, and also with Bluetooth accessories. This wireless technology has literally transformed our use of technology and has contributed to the explosion of connected household objects in recent years.
Manufacturers quickly saw the potential of this technology, but technical changes were necessary to be able to fully utilise Bluetooth in an industrial environment. Massive deployment was only possible with Bluetooth V4.0. This is now called Bluetooth Low Energy.
What is Bluetooth Low Energy (BLE) ?
Bluetooth Low Energy, also known as Bluetooth smart, is a variant of "classic" Bluetooth that allows you to send small amounts of data. The main difference between Bluetooth and Bluetooth Low Energy is the low power consumption of the latter. Hence its name "Low Energy". This technical specificity makes it possible, among other things, to considerably extend the autonomy of connected objects by reducing their activity time. In this way, Bluetooth Low Energy is highly suitable for industrial uses. Indeed, the majority of use cases require neither a high emission recurrence, nor the transmission of a large amount of information.
As a result, Bluetooth Low Energy is perfectly adapted for the transmission of data such as temperature, brightness, a motion threshold, an identifier or an hour. In addition, unlike classic Bluetooth, BLE does not require master/slave model to operate, making it much easier to use on an industrial scale.
Technical operation: difference between Bluetooth and Bluetooth Low Energy
To allow devices to communicate, Bluetooth and BLE work thanks to UHF (Ultra High Frequency) radio waves on frequencies between 2.4 GHz and 2.483 GHz in the same way as WIFI and other systems such as Zigbee.
The Bluetooth standard (including BLE) uses the Frequency Hopping Spread Spectrum (FHSS) technique that consist of cutting the frequency band into 39 channels with a width of 1MHz. The information is then sent using a combination of channels. By changing channels up to 1600 times per second, the Bluetooth standard avoids interference with signals from other radio modules, which can be convenient in an industrial environment.
How does Bluetooth work ?
Let's get into more detail about the technical operation of Bluetooth. As we mentioned above, the Bluetooth standard is based on a master/slave mode of operation, requiring pairing that may take more or less time. For example, if you are looking to send music from your smartphone to a smart speaker, in this setup, the smartphone is the "master" and the smart speaker is the "slave".
The master will sense the presence of the peripherals around him. This will form what is "piconet". A master can be connected to only one active device at a time, but will, before establishing the connection, switch very quickly to give the illusion of a simultaneous connection to several devices.
Establishing a connection between two devices involves several steps to ensure a certain level of security:
Inquisition phase (inquiry)
Synchronization with the access point (paging)
Discovering Access Point Services
Creating a channel with the access point
Pairing using a PIN
Network Usage
Once connected, the two devices can communicate. Although the security key is registered, to facilitate subsequent exchanges, pairing will still be necessary.
How does Bluetooth Low Energy work?
The Bluetooth Low Energy communication protocol is based on a number of layers essential to data exchange including: Generic Access Profile (GAP), Generic Attribute Protocol (GAAT) and Attribute Protocol (ATT)and the Link Layer (LL).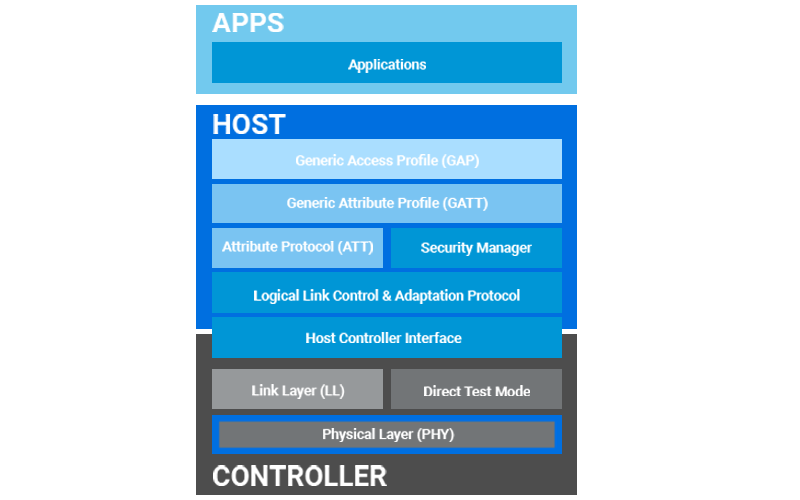 The GAP Layer: Defining roles
The Generic Access Profile (GAP) layer introduces the different roles that a connected object can have in BLE: the broadcaster, the observer, the central and the peripheral. This layer is the one that makes BLE devices visible to the outside world and determines how two devices can (or cannot) interact.
The role will be defined by the manufacturer, who will decide the nature of it according to the use and the functions he wishes to give to his product.
The broadcaster : it can be used as a server. Its role is to transmit data to other devices (clients). It works in advertising mode and does not support "connected" mode.
The observer / scanner : in this case, the object is listening to the surrounding broadcasters. It interprets the data sent by the broadcaster and will react accordingly. It works in advertising mode and does not support "connected" mode.
The central: it plays the role of gateway (slave) between the "peripheral" (master) and the servers of the user. It can receive data from devices, but it can also transmit information back to them. It therefore supports the "connected" mode.
The peripheral: it will accept all the connections of the central and transmit data to it periodically. It therefore supports the "connected" mode.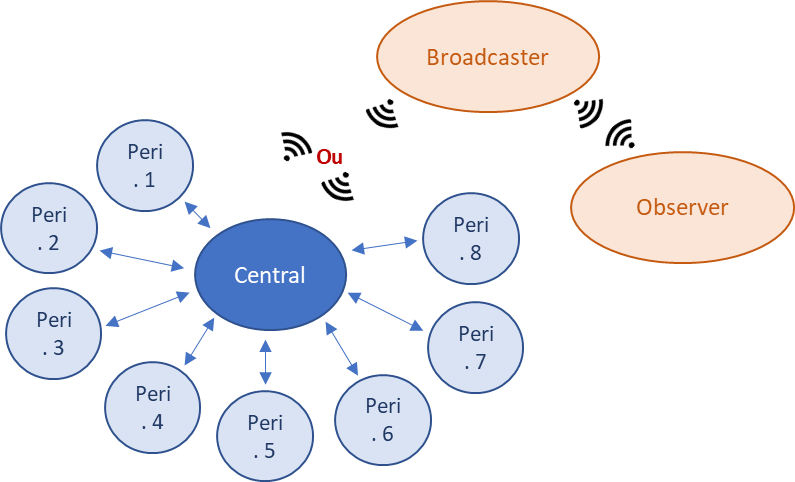 It is important to note that in Bluetooth Low Energy, there are two ways for two devices to communicate with each other: advertising mode and connected mode. In advertising mode, BLE connected objects will send their information at regular intervals without being able to receive any information in return. The connected mode will allow connected objects to dialogue and exchange information with each other. This link can be authenticated and encrypted to increase security.
GATT and ATT layers: client server relationship
The Generic Attribute Profile (GATT) layer is a data presentation method used by BLE devices. This method is based on the client/server relationship (ATT), where the connected object plays the role of the server that offers its services to the terminal (smartphone, computer or other gateways) that will connect to it as a client. The connected object will periodically emit a frame to signal its presence to the "customer" nearby. Once the connection is established, the client and the server will then be able to connect.
The LL Layer: The Master/Slave Relationship
The Link Layer (LL) introduces "master" and "slave" modes. These modes only appear when there is a connection between two BLE devices. The "central" will play the role of "master" and the peripherals will play the role of "slave". The "master" can give an order, send anorder to one or more "slaves", while the devices, the "slaves", will be able to connect to only one "master" at a time.
Here we have gone into the details of the technical operation of Bluetooth Low Energy. This information is intended specifically for IoT solution integrators. This is because for the end user, the connection between Bluetooth devices and servers is completely seamless. Bluetooth Low Energy is very easy to use and fully compatible with smartphones, PCs and tablets on the market.

Bluetooth and Bluetooth Low Energy: advantages and disadvantages of these communication protocols
The Bluetooth and Bluetooth Low Energy communication protocols, although having a common base, are different and are not aimed at the same audiences nor do they meet the same needs. The summary below will allow you to refine your choice and understand the differences between Bluetooth and Bluetooth Low Energy.
Classic Bluetooth
Advantages
Streaming data, ideal for audio streaming for example
Large amount of data: music, videos, photos
Disadvantages
Energy intensive
Fairly short emission range: between 10 and 15 meters maximum
Bluetooth Low Energy
Advantages
Low power consumption offering a very high autonomy of BLE devices
Long emission range of up to several hundred meters
Competitive acquisition cost
Disadvantages
Non-continuous connection
Relatively light informations
---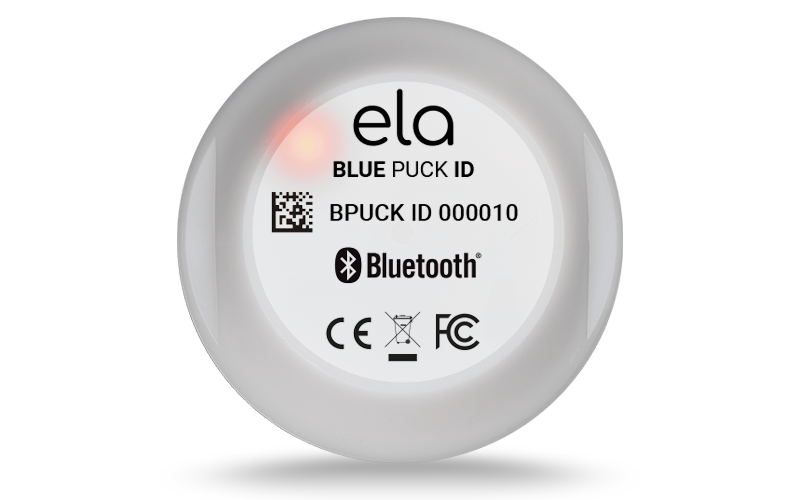 Discover our wide range of BLE beacons
known for their robustness and high autonomy
Key takeaways : 
The "classic" Bluetooth will rather be used by the general public for its ability to send a large amount of streaming data such as music or videos.
The BLE will rather be intended for industry to report a small amount of non-continuous information over time. In addition, its low consumption ensures an advantageous acquisition cost and allows companies to deploy IoT projects quickly and easily.
In 2016, the Bluetooth 5.0 core specification was released, giving rise to two new subsequent versions 5.1 and 5.2. These new specifications have made it possible, among other things, to improve the speed and the transmission range, but also to be able to use Bluetooth as a location technology by allowing the addition (for classic Bluetooth) the detection by angle of arrival and for the BLE, the possibility of determining the direction of the signal. Since 2019, it would also be possible to create audio profiles in BLE that wasn't, until then, reserved for classic Bluetooth.
RELATED : What is the scope of the BLE in relation to its environment?