ELA Innovation reinforces its international presence!
The year 2022 was rich in international events and projects for ELA Innovation, accelerating the company's global expansion.
The North American market has been particularly dynamic. Indeed, in 2022, sales in this zone were multiplied by 3 compared to 2021. This growth has been greatly boosted by the signature of a partnership with Novotech, a major distributor of connected objects in this zone.
On the Asian side, the team is proud to have opened an office in Singapore and to have welcomed Hugo PORTELLA as APAC Sales Manager. This allows us to be closer to our local customers and to boost the company's reputation in this part of the world.
To keep this dynamic going, our experts have exhibited at 4 international trade shows: IAA Transportation (Hanover), Gitex Global (Dubai), Bauma (Munich) and Expo Seguridad (Mexico).
The IAA Transportation was a phenomenal experience for our teams, our partners and our customers. During this event, we have created a real IoT experience highlighting the products and solutions of 6 of our partners.
This year was also the opportunity to take advantage of our internal expertise. Our teams have developed a new automatic machine that allows us to increase our production capacity and to offer an ever more personalized service to our customers.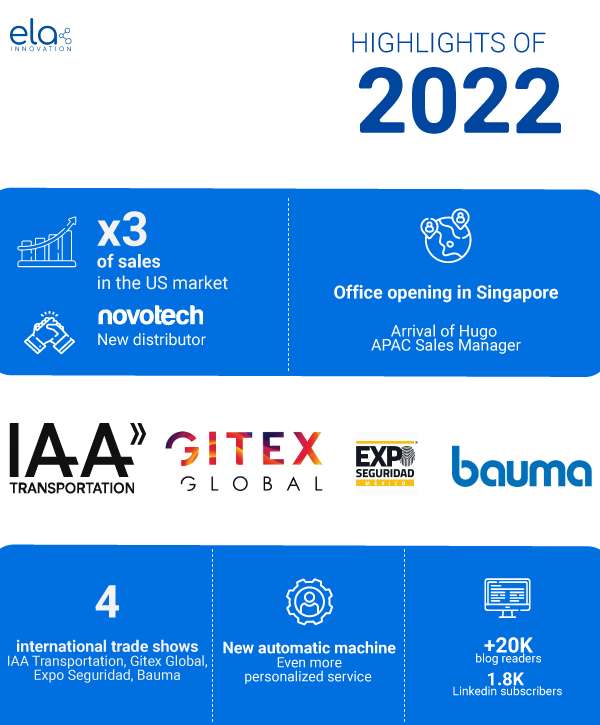 ---
Armed with these successes, all the ELA Innovation teams are ready to take up the great challenges to come in 2023.