Smart building, which is expected to represent $24.7 billion worldwide by 2021, is a term widely used to talk about the building of tomorrow. But what does it really mean? The term "smart building" is based on the use of different sensors to collect a large volume of data: temperature, humidity, light, detection of physical presence, sound level, air quality, water or electricity consumption, etc. The term "smart building" is also used to describe the use of different sensors to collect a large volume of data. We are also now talking about BioT (Building Internet of Things) which is nothing less than the association of Smart Building and IoT.
For construction professionals, but also and above all for the users of the latter, the main challenges of smart building are: managing energy consumption, optimizing space, reducing costs and security.
As the global health crisis has reinforced these challenges, with, among other things, the massive development of teleworking and the implementation of strict health regulations, managers of tertiary buildings see many opportunities. Nevertheless, the communication protocols enabling the networking of connected objects are sometimes complex and can be costly. In this article, we will present how Wirepas Mesh technology integrated in various objects and sensors meets these challenges, while providing a reliable, simple to install and inexpensive solution.
Wirepas Mesh technology, a real breakthrough for smart building
There are many communication protocols on the IoT market, so it is not easy to know which one to choose. We will therefore present you one of them based on the meshed networking of sensors. Developed by Wirepas, a Finnish company, this solution currently allows to connect 3 million devices in the world. This is possible thanks to a very versatile and interoperable solution, but also thanks to an ecosystem of 160 partners, including ELA Innovation.
Wirepas is committed to providing its customers with the most reliable, optimized, scalable and easy-to-deploy connectivity solution.
The offer is broken down into 4 pillars to form a complete technological offer for hardware manufacturers, business software publishers, integrators and end customers.
This solution has been specifically designed and thought to meet the 2 major challenges of meshed networks which are :
The reliability of the network regardless of its size or density
The low power consumption of the routers in the network
How does Wirepas Mesh technology make it possible to connect several different sensors together?
Wirepas Mesh is a decentralized radio protocol that can be used in a multitude of objects, on any component or frequency band. Thanks to Wirepas Mesh, each object in the network is an intelligent router, this simplifies the infrastructure and avoids the use of repeaters or routing tables.
All the intelligence of Wirepas Mesh is in the network, with the devices themselves deciding their configuration locally and dynamically. This local decision making guarantees the functioning of the object, whatever the size of the network.
The "local" Wirepas Mesh network can also be connected to the Internet (or a Cloud) thanks to a gateway whose drivers and APIs are available on GitHub in Open Source. This allows business platforms to be connected to operate the network and process data.
Learn more about Wirepas Mesh technology
This technology is particularly relevant for large-scale industrial applications such as asset tracking, lighting, logistics flow management or facility management.

A solution adapted to smart building applications
Thanks to its great versatility, Wirepas Mesh can be used in many connected devices such as sensors, lighting fixtures and any other type of building object that can support the technology. The whole forms a unified network allowing to mix several applications within the same network. It is very easily implemented in the building(s) to make the management more intelligent.
Finally, the "Over-The-Air" provisioning and updating functionalities specific to the Wirepas Mesh solution enable it to implement and maintain the network while keeping OPEX costs under control.
What are the pros and cons of Wirepas Mesh technology?
The Wirepas Mesh solution brings many answers to the needs and limitations of the users of tertiary buildings.
Pros:
Scalability and reliability of the network regardless of its size or density
Low-power and low-latency modes allowing to couple different applications (e.g. light fixtures/sensors) and benefit from the following advantages
Very low total cost of ownership thanks to an infrastructure that can be predominantly battery-based and allow several years of operation.
Easier implementation thanks to provisioning directly by network objects
Simplified maintenance operations thanks to an "Over-The-Air" update feature
Interoperability with the Internet or the Cloud via a simple gateway allowing the use of business platforms for different smart building applications.
Cons:
However, the technology is also dependent on physics like any other comparable technology. In the case of smart building this means a range that can be reduced depending on the environment. But this point is usually easily overcome by adding a new object in the network to improve its coverage.
Some use cases
As mentioned in the introduction, managing energy consumption, optimizing space and ensuring the safety of people and property are major issues for building managers. We will see through 2 use cases, how, in practice, Wirepas Mesh technology is used.
Air Conditioning and Lighting Management
Today, the majority of tertiary buildings are equipped with air conditioning systems to cool or heat work spaces. This item of energy consumption represents a large part of the expenses related to the operation of tertiary buildings, which is why it is interesting to be able to manage its use in an automated and intelligent way. Let's take a look at how Wirepas Mesh technology can be used to better control this consumption, in order to reduce the costs as well as the ecological impact associated with this item of expenditure.
Within the same Wirepas Mesh network, luminaires can be very simply coupled with temperature and humidity sensors placed at the relevant points in the building. The lighting network is used to structure the Wirepas Mesh network in "low latency" mode. The network of temperature/humidity sensors is battery operated and uses the low power mode to promote battery life.
Lighting and air conditioning are then managed smartly for better control of the building's energy consumption.
Discover our Wirepas Mesh
temperature & humidity sensor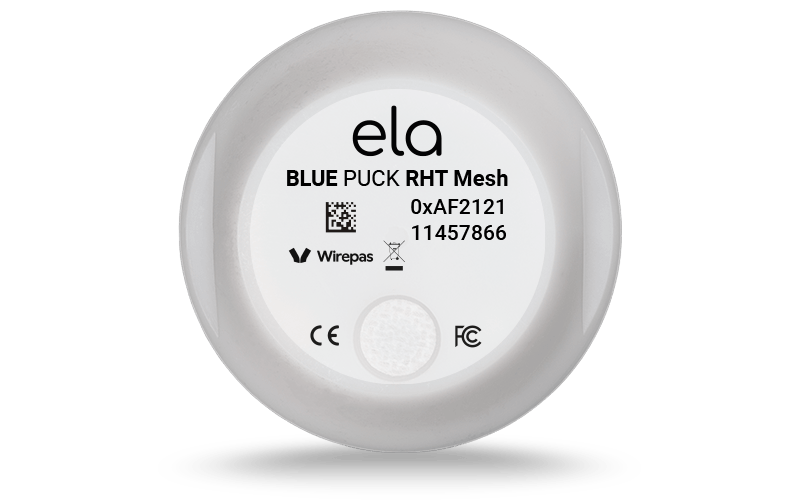 Room / office occupancy
Space optimization is a subject that is becoming increasingly relevant, whether it is the development of teleworking or the increase in the price per square meter in large cities, companies are seeking to reduce the size of their premises. For this, it is necessary to be able to computerize the management of room and office occupancy rates.
To meet these challenges, it is possible to add very simply in a Wirepas Mesh network a set of presence sensors (motion sensors), detection of opening and closing of doors (magnetic sensors) or even brightness on battery. This allows better management of space occupation and also to dynamically manage the lighting of the building while reinforcing the architecture of the network.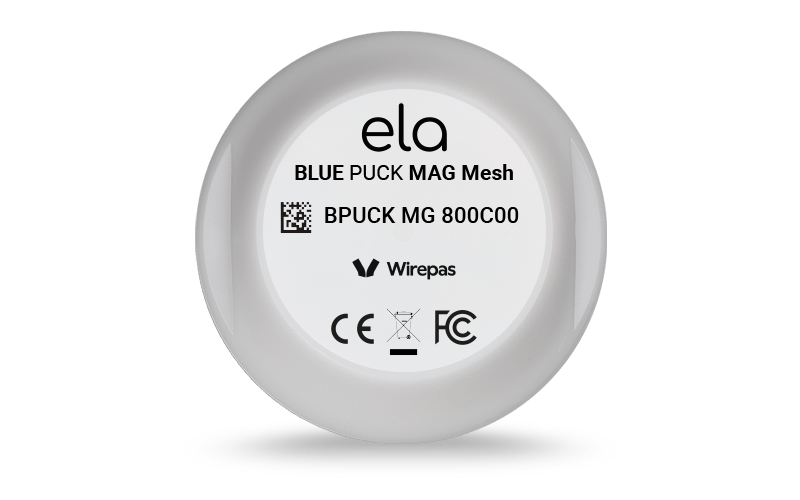 Discover our Wirepas Mesh
presence & motion sensor
To conclude
Thanks to digital technologies, the life cycle of buildings is being transformed to enter a more sustainable, autonomous and remotely controllable mode of operation. By relying on mature and proven technologies such as Wirepas Mesh, building players will be able to develop preventive maintenance thanks to the predictive analysis of collected data. This is known as "thinking building". This type of low-cost, turnkey solutions will democratize applications related to intelligent building and thus contribute to the development of this sector.
We thank Eden SUIRE, Business developer at WIREPAS for his contribution to the writing of this article.