In recent years, fleet management has become a major issue for companies. Whether it is to reduce vehicle maintenance and fuel costs or to improve driver safety, more and more companies are deciding to invest in turnkey fleet management solutions
In this article, we explain in detail what fleet management is, how it works and what are the advantages of deploying this type of solution.
What is connected fleet management? 
A study by the Arval Mobility Observatory has shown that in 2020, only 28% of French companies have equipped their fleet with an on-board telematics solution, compared to 33% of companies in Europe. In your company, how do you manage your vehicle fleet?
For companies, fleets of company cars and service vehicles represent high costs that can quickly get out of control. Managing a network of business vehicles can be tricky, as it goes far beyond a simple asset inventory. By implementing a connected fleet management solution, companies can manage their fleets more efficiently and reduce fleet management costs.
Intelligent fleet management will require the implementation of an IoT (Internet Of Things) solution to automate the transmission of numerous vehicle-related data such as:
fuel consumption
Use rate
GPS position
maintenance requirements
temperature monitoring in refrigerated trailers
etc
It is also possible to report driver-related data such as break times to ensure driver safety.
This type of solution is increasingly used in the field of road transport, allowing drivers to be alerted in real time in the event of a malfunction and contributing, for example, to reducing the risks of goods theft, accidents or even deterioration of the goods in the case of heat-sensitive products.
Similar article: How to secure the tracking of the cold chain during transport?
Why use a connected telematics solution?
The massive development in recent years of SaaS (Software as a Service) has greatly contributed to the digitalization of organizations by facilitating access to IT software enabling them to optimize their performance, increase their profitability, but also reduce their environmental impact. Indeed, connected fleet management solutions will address many of the issues that affect companies with fleets:
Predictive maintenance:
The implementation of an IoT fleet management solution will enable accurate monitoring of the state of wear and tear of vehicles. The fleet manager will thus be able to plan revisions to anticipate and even avoid breakdowns that could prove dangerous for users and costly for the company.
Safety:
Equipping a fleet of vehicles with an on-board telematics solution will also make it possible to reinforce the security of users and equipment. Indeed, thanks to the use of GPS units, it is possible to locate vehicles in real time, thus protecting them against theft. But it is also possible, thanks to the use of Bluetooth beacons combined with GPS trackers, to ensure, for example, that drivers' break times are effective or to analyze risky driving behavior.
Reducing environmental impact:
Connected telematics will also make it possible to reduce the environmental impact of vehicle fleets by providing information on fuel consumption, CO2 emissions and journey times.
Reduce costs and save time:
Overall, the implementation of a connected fleet management solution will help to reduce the company's expenses, whether it be vehicle maintenance costs, fuel costs or even insurance costs. The numerous data collected in real time by this type of solution will highlight the areas of expenditure and thus guide fleet managers in their decision-making. In addition, IoT fleet management solutions will save companies a considerable amount of time by centralizing data on a single tool that can be accessed on any device (smartphone, PC, tablet) and by offering analysis reports in the form of dashboards and graphs.
How does Bluetooth Low Energy in car fleet management work? 
A turnkey fleet management solution is based on a set of technical components. First, there is the "hardware" part, including a GPS telematics box in the vehicle cabin and a set of beacons and Bluetooth sensors that can be installed in different parts of the vehicle. To be able to manage the various connected objects in the network and read the data, it is necessary to use fleet management software (FMS).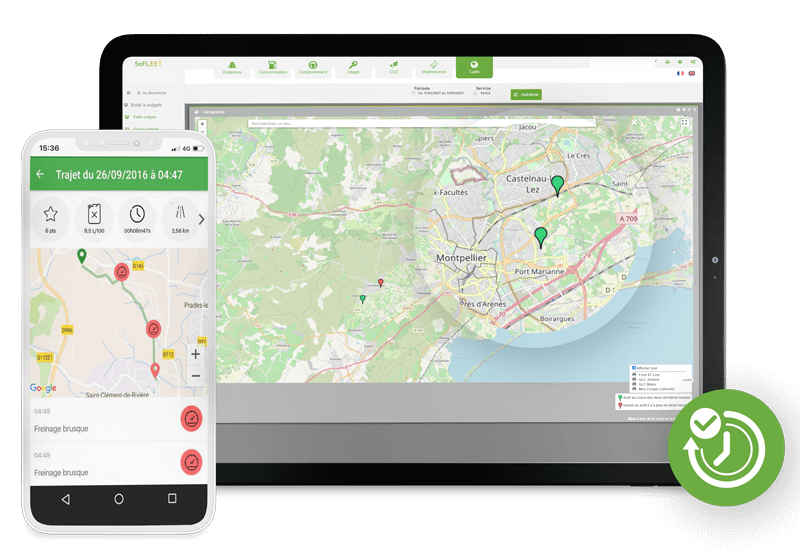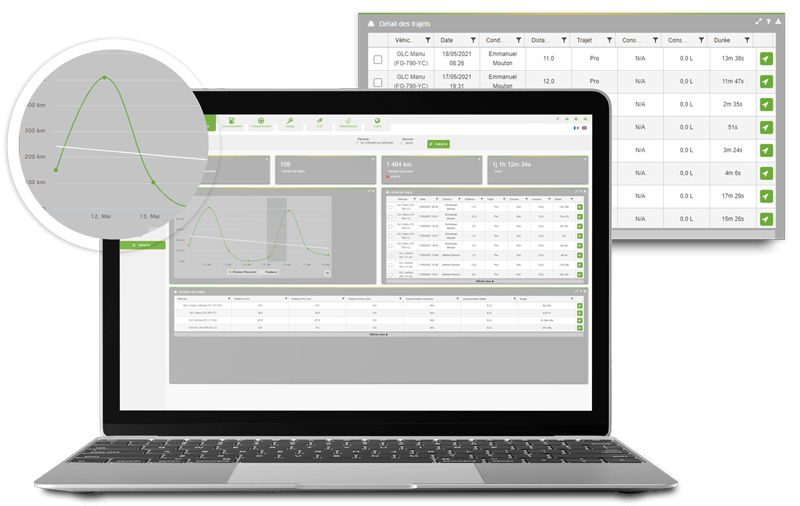 SoFLEET by SYNOX car fleet management application
From a technical point of view, the Bluetooth beacons, and sensors, that are in the vehicle, will emit data in Bluetooth which will be transmitted by the GPS box with dual Bluetooth and 3G/4G connectivity. The GPS tracker, generally connected via an ODB (On-Board Diagnostics) port, will then send the information it has collected to the client's server via the cellular antenna network. The end user will then be able to view and analyze the data collected by the beacons & BLE sensors via the IoT platform connected to the network via the cloud. It is also possible to send an alert directly to the driver's smartphone if the threshold is exceeded.
Let's take the example of a vehicle transporting heat-sensitive products such as vaccines that will need to be stored at low temperatures. The Bluetooth sensor fixed in the truck's refrigerated trailer will be set up to measure the temperature at regular intervals and to send an alert if the authorized temperature threshold is exceeded. If the threshold is exceeded, the driver will receive an alert in real time on his smartphone, enabling him to react quickly.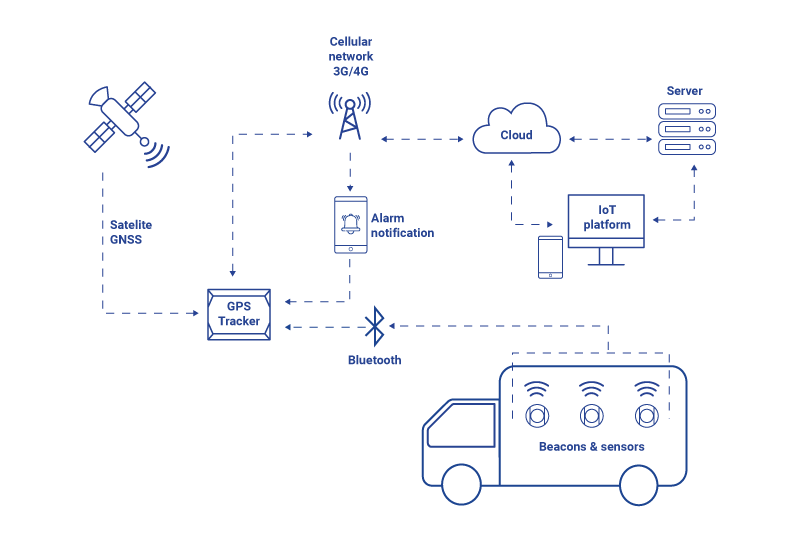 Things to remember:
The automotive fleet management market is growing rapidly (24% annual growth on average) and is expected to reach more than $34,629 million by 2022. To meet the needs of companies, many IoT players are positioning themselves and coming together to offer complete, turnkey fleet management solutions. However, before making a choice of providers, it is necessary to pay attention to certain points:
Interoperability of the solution:
As explained earlier in this article, this type of in-vehicle telematics solution includes several "components", hardware, and software, which are very often based on different communication protocols, as they are supplied by different manufacturers. It is therefore important to ensure the compatibility and interoperability of the different wireless communication protocols (GPS / Bluetooth Low Energy / 3G-4G, etc.).
The scalability of the solution:
Equip an existing fleet of vehicles requires the ability to extend the IoT network very quickly. The scalability of the solution is therefore a point not to be neglected. Thanks to connected object management software, the system's expansion potential is increased tenfold, allowing an almost infinite number of objects to be added to the network quickly and easily.
Connectivity:
Connectivity is the main foundation of an effective fleet management solution. Even today, cellular connectivity is still the norm, given the communication distances to be covered. Nevertheless, "new" technologies are coming onto the market, such as LoRaWAN (Link to LoRa eshop catalogue), LTE-M technology or Sigfox, which allow small amounts of data to be communicated over very long distances with low energy consumption.
____________________
Fleet management is a management method that offers companies many opportunities for evolution and digital transformation. The massive development of connected objects in the field of transport allows solution integrators to propose a much more complete offer than a simple fuel control. Today, all vehicle-related data can be analyzed in real time, enabling companies to optimize their expenditure and increase their profitability.
These on-board telematics solutions are also in line with the digitalization of cities. Indeed, in the context of smart cities, soft mobility and car sharing are high-stakes issues. In a future article, we will discuss the link between smart city and in-car telematics in more detail.