Definition: What is an IoT platform?
The IoT platform is an essential component in the value chain of connected services. Its mission is to facilitate communication between objects and machines, while adding value to businesses. A real performance lever, the IoT platform will considerably improve operators' daily lives: time savings, automation of low value tasks, predictive maintenance are just some of the benefits brought by industrial IoT solutions.
There are 3 types of IoT platform: device management platforms, which control a fleet of connected objects and manage a network; connectivity management platforms, which manage a fleet of SIM cards; and finally, data management platforms, which manage the data collected by the various devices. The latter provide value by making the data more intelligible, and will be used by end-users to manage their activities.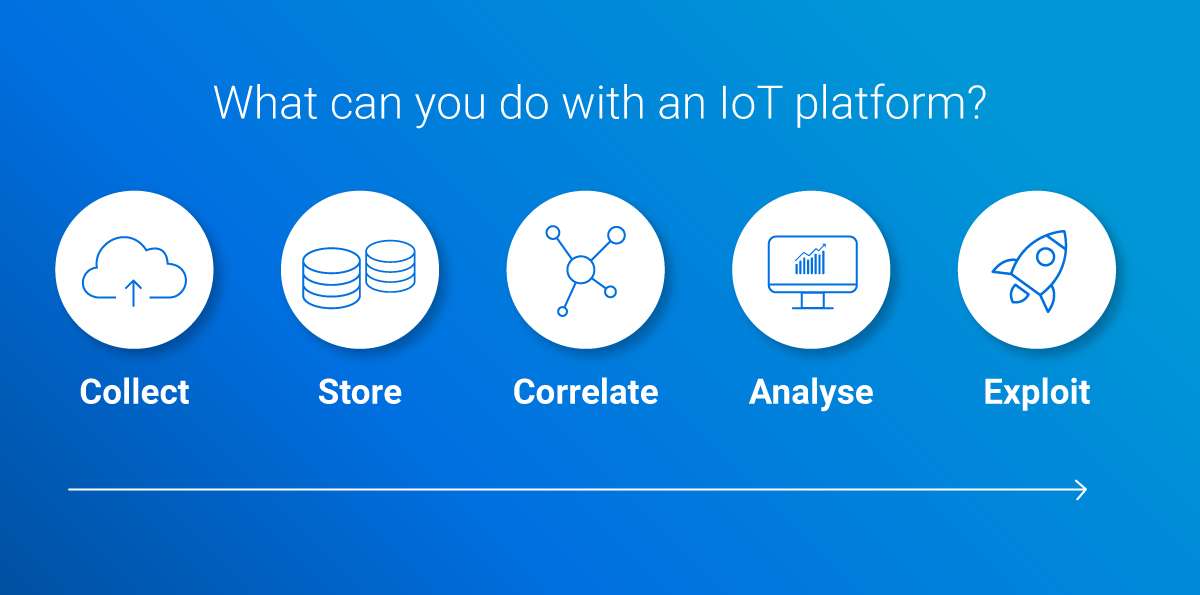 How does an IoT platform work?
In an IoT infrastructure, the platform is the "tip of the iceberg". It's a set of services linking connected objects, gateways and the cloud or servers storing the data.
An IoT platform is based on APIs, communication drivers to collect data, databases for storage, processing and calculation services to correlate and analyse data, and a web application (web service) to generate dashboards to visualize and exploit the data collected by IoT sensors.
What are the differences between proprietary and open-source IoT platforms?
Proprietary platforms
PaaS (Platform As A Service) solution: a rich toolbox of components managed by the cloud provider, enabling the creation of customized IoT platforms that are often better adapted to users' needs.
Open-source platform
An open-source IoT platform requires more technical knowledge and time, as it involves the development of all services and the maintenance of tools, infrastructure and applications by the user. However developers can modify the code and adapt it to their needs.
| | Benefits | Cons |
| --- | --- | --- |
| Proprietary | Shared risks Outsourced operational maintenance OPEX business model | No control over development Provider longevity |
| Open-Source | Control of tools Localization of environments | Significant resource requirements Investment costs |
A complex market with many players
The market for IoT platforms can be complicated to grasp, due to the number of players and their specificities. Some manufacturers, originally device manufacturers, are developing their service offerings by proposing off-the-shelf solutions, while pure-players specialize in verticalized solutions, making their industry specific knowledge a real strength. Cloud players and telecom operators, meanwhile, rely on their technological know-how to offer complete functionalities and complete connectivity bricks.
Cloud players: AWS (Amazon Web Services), Google, IBM and Azure…
The "industry specialists": Siemens, Bosch and Schneider Electric…
Pure IoT players: Telit, Ubiant or Netatmo…
Traditional IT players: Capgemini, SAP Oracle, Accenture…
Telecom operators": Live Object or Objenious…
Important points to consider when choosing an IoT platform
There are more than 600 IoT platforms worldwide, according to the IoT Report survey. As you can see, choosing the one that best suits your needs can be a daunting task. To facilitate benchmarking, it's important to clearly define your needs and list your evaluation criteri, here are some key points:
1.connectivity
Connectivity refers to the communication method/technology used by connected objects to transfer collected data. These may include WIFI, cellular (3G/4G), Bluetooth, LPWAN, NBIoT and LTE-M networks, to name but a few. An IoT platform must be able to support several communication standards at once.
2. data security
An IoT platform must guarantee data security and confidentiality. Cybersecurity is therefore a major issue. You need to ensure that malicious parties cannot access your information. It's important to ensure that the entire infrastructure is secure, so as not to leave any gaps that could act as a real entry to your IT system.
3.ergonomic user interface
It's via the IoT platform that end-users will visualize and exploit data. So it's important that it's optimized for your business needs, or you risk losing the support of your employees. Some platforms offer more or less functionality, while others can be completely customized to suit your needs. It is also essential that this business application can be used on different devices (PC, tablet, smartphone, etc.), so that it can be easily integrated into your teams' work processes.
4. an agile platform
When choosing your IoT platform, it's essential to think in terms of future needs. But let's face it, business processes and needs are constantly evolving, so it's important to choose a platform that can keep pace with your company's evolving requirements. This criterion can tip the balance between an open-source or proprietary solution. In fact, the ideal balance between the two would be to guarantee tailor-made functionalities and the possibility of simple upgrades.
5. The pricing model
The pricing model of the IoT platform you choose will have a direct impact on the business model of your project. Platforms apply different billing models based on different criteria, such as the number of objects connected to the network, data volume or computing power consumed.
For example, SaaS (software-as-a-service) platforms are often accessible, with a relatively low entry ticket, as infrastructure costs are mutualized. However, this system can quickly become costly as object volumes increase.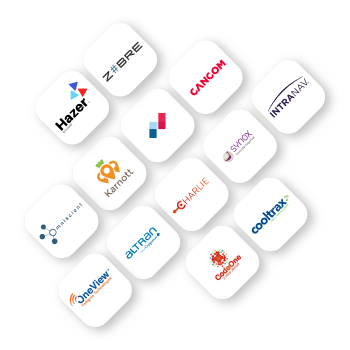 Discover our partners' IoT Platforms.
In conclusion, if you're looking for an IoT platform to digitalize your processes, we advise you to start by clearly defining your needs and constraints, whether technical or business-related. It's also important to identify the in-house resources and expertise required for the successful deployment of such a project.