Asset tracking holds the promise of significant economic opportunities for various fields such as health, security, industry and transportation. What is asset tracking? Asset tracking is a technology that allows precise tracking and geolocation of an object. Are you wondering what this technology is all about? Or what it could bring to your company?
In this article, we explain everything there is to know about asset tracking.
Asset tracking: what is it?
Asset tracking can be described as a method of tracking physical asset. An asset can be a moving vehicle, a part on an assembly line or a logistic machine. To understand what asset tracking is, let's start with its definition.
What is the definition of asset tracking?
Asset tracking can be defined as a process for tracking the movement of one or more assets in an environment or within an organization, in the context of information technology. It is also called positioning or geolocalization.
Indeed, the objective is to allow us to track digital data produced or linked to an object. Asset tracking technology is therefore based on the use of tools or IT solutions.
Asset tracking and the Internet of Things: the combination of all possibilities
When combined with what is known as the Internet of Things, or IoT for short, asset tracking now offers possibilities that were not possible with satellite or GPS tracking.
Indeed, a connected object collects local data. This data can be outside (outdoor tracking) or inside a building (indoor tracking). In this case, we also talk about indoor localization.
An indoor or outdoor tracking system
A tracking system will therefore rely on one or more connected objects. First, the object will collect data. Then, it will transmit these collected data to the company's computer server.
An exchange of information will then take place between the server and the connected object. It will thus be possible to track an object indoors. This is the principle of an indoor positioning system or IPS.
What are the advantages of asset tracking?
Because it is possible to connect any object to a computerized management network, there is a lot of interest for companies that are taking the digitalization turn.
The first advantage of asset tracking is undoubtedly that it can be adapted to the company's objectives and operations. But that's not the only advantage.
Better security against loss or theft
On construction sites or even within the company's premises, the loss or theft of equipment or tools is unfortunately a risk. Thus, the replacement of one or several equipments can quickly represent a significant cost and unbalance the company's finances.
This is why an asset tracking solution is an investment that can quickly pay for itself: geolocation allows you to know in real time where your equipment is located.
Optimization of the equipment fleet and traffic flows
To optimize your movement flows, for example if you want to improve the management of your equipment fleet, requires having precise factual elements to identify the movements of its equipment. This way, anomalies can be identified and areas for improvement can be found.
Indeed, to gain in efficiency, the control of flows is essential. And this can also apply to internal logistics flows, i.e. production flows, and to external logistics flows linked to supply or distribution.
Finer predictive maintenance
Predictive maintenance consists in anticipating as accurately as possible the next maintenance operations to be performed. The goal is to prevent technical failures, to limit the risks of breakdown and also to foresee future replacement needs.
How does asset tracking make predictive maintenance easier? Once again, thanks to the travel history, you can identify the causes of deterioration more efficiently. This works for your equipment, but also for your goods.
Improved processes and employee confidence in a safer work environment
Good management of your equipment fleet naturally contributes to better working conditions. Because predictive maintenance increases safety and reduces the risk of accidents. Employees can have confidence in their work tools and no longer waste time looking for them. You know where they are.
Inventory work is also made easier. Indeed, taking an inventory requires a lot of time and resources. It is therefore time that is not devoted to production, but which costs the company. And like all physical manipulations, the risk of error is unfortunately high. An asset tracking solution can easily compensate for this.
An easier accounting follow-up and a faithful image of the economic reality of the company
In France for example, accounting rules require annual tracking of inventories, tracking of fixed assets and calculation of their depreciation. As we have seen, thanks to asset tracking you have precise knowledge of your inventory and the value of your assets. Your accounting is therefore simplified and more accurate in terms of the economic and financial reality of your company.
Let's go further and see how asset tracking works.
How does asset tracking work?
Typical architecture of an asset tracking solution
There are many asset tracking solutions on the market and they are often sold as "turnkey" solutions to facilitate their implementation and daily use. However, it is important to take a look at the architecture behind these solutions to understand how they work.
A tracking solution is composed of a set of geolocation beacons, also called "tags" embedding a chip and a battery to be completely autonomous. These connected objects are attached to the equipment to be tracked.
Then, there is the network or wireless communication protocol, which will allow to collect the beacons data. The choice of the technology used will depend on different criteria that we will explore later.
The raw data is centralized by a gateway that will send the information to an indoor positioning tool to process the data. Usually the data is stored on the cloud or on the client's server.
The last component of asset tracking solutions is the business application. This application, generally available on PC and mobile, will allow end users to visualize data in the form of charts, plans, dashboards, etc.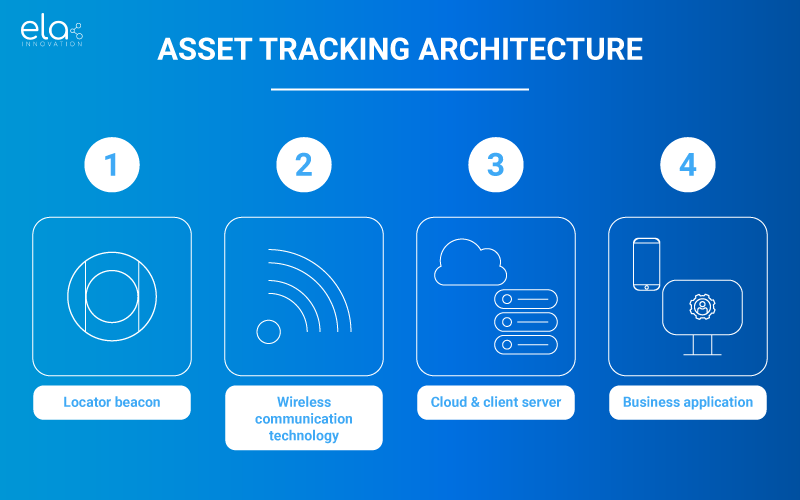 Asset tracking: which technology to choose?
Until recently, geolocation relied solely on satellite technologies and was limited to outdoor use. The IoT has revolutionized geolocation by making indoor positioning possible without a satellite network. That's why other wireless communication technologies have emerged. The choice of one or the other of these technologies must be made according to different criteria such as: the type of environment (factories, offices, etc.), the number of objects to be located, the expected level of accuracy or the acquisition cost.
To help you see things a little more clearly, here are some key characteristics of 3 wireless communication technologies used by ELA Innovation:
Wirepas Mesh geolocation technology
Perfect for locating and inventorying medium-sized equipment such as pallet trucks and other logistics equipment.
Network of beacons requiring no cabling: low acquisition cost and simple installation
Calculation of the position according to the strength of the RSSI signal
Between 5 and 10 m of localization accuracy
Recurrence of transmission of the position of the equipment can be configured from a few seconds to several minutes depending on the need.
Network resilience and scalability: it is very easy to add connected objects to the network to expand it. If one of the beacons in the network stops working, the network automatically re-forms itself to bypass the beacon that is no longer working.
Active DOT RFID geolocation technology
This radio frequency identification technology has the particularity of being dual-frequency, which offers a very good immunity to the metal environment:
2 types of frequencies used :

A low frequency [125 KHz] allowing a precise and configurable detection from 1 to 15 m.

The infrastructure consists of completely autonomous location beacons, but also antennas and RFID readers that need to be wired.
Very high detection reactivity [<1 ms] allowing detection of passage at high speeds. (Detection on the fly)
Accuracy of location between 5 to 6m.
QUUPPA AOA geolocation technology
This high-precision location technology is particularly suitable for locating small equipment such as hand tools.
Network infrastructure based on a set of location beacons and 360° antennas. Requires antenna cabling which can quickly increase the acquisition cost.
Technology based on the calculation of angle of arrival (AOA) between a location beacon and a 360° antenna in a 3D reference frame.
High accuracy of location can be less than 1 m.
Very good reactivity allowing to follow the movements of the equipment in real time.
| Technologies | Wirepas Mesh | RFID Active DOT | QUUPPA AOA |
| --- | --- | --- | --- |
| Location accuracy | 5 to 10m | 5 to 6m | <1m |
| Reactivity | from a few seconds to a few minutes | <1ms | <1ms |
| Acquisition costs | Low | Medium | High |
Comparison of asset tracking technologies
In general, you should keep in mind that the cost of acquisition is related to the level of accuracy and responsiveness expected. If you want to locate in real time with an accuracy below one meter, it will be recommended to opt for a wired solution generating higher installation costs than a wireless solution.
Nevertheless, for the vast majority of asset tracking needs, an accuracy of about 5m is largely sufficient. For example, if you want to locate a forklift, it is not necessary to have a high level of accuracy, since once the location area is identified, the machine will be in your field of vision. Because of its size, it will be easy to locate, even at 5m distance.
The challenges of asset tracking for the industry
The location of equipment and the management of the equipment fleet are naturally essential issues for industrial companies. That's why asset tracking has so many advantages in the industrial world.
For example, it improves employee productivity. How does it do this? By allowing to locate an object in a warehouse, to locate it with precision and to trace its route if necessary. This is what we call industrial tools tracking.
The tracking of industrial tools for a better productivity
Inventorying and tracking all your equipment in real time is now possible thanks to geolocation solutions for industrial tools. This even corresponds to more than 2/3 of the digitalization projects of companies. The great strength of asset tracking is its ability to adapt to the unique typology of your industrial site.
This is why the tracking of industrial tools allows :
More efficient tooling management;
Automation of repetitive tasks;
An improvement in the management of traffic flows;
Improved tooling safety;
Better working conditions;
An increase in productivity.
Asset tracking to overcome the limitations of manual inventory
Let's take a concrete case: the company Renault, for example, called upon ELA Innovation for the implementation of a project called Packaging Tracking. Indeed, the automotive supplier decided to equip its production sites with ELA Innovation RFID technology.
The goal of the car manufacturer is first of all to optimize its inventories, in order to reduce its packaging by up to 20%. But also to eliminate 80% of its emergency logistics usually caused by packaging accidents. A significant economic gain for this multinational.
Safety in logistics and respect for good transport conditions
In the logistics sector, location tracking is obviously an important issue. Because the deadlines are always shorter, the optimization of the routes is essential. Moreover, problems related to theft and the integrity of transported goods can impact the company's activity. This is why ELA Innovation had the idea of offering its customers anti-theft solutions for logistics equipment.
Want to know more about ELA Innovation's asset tracking products?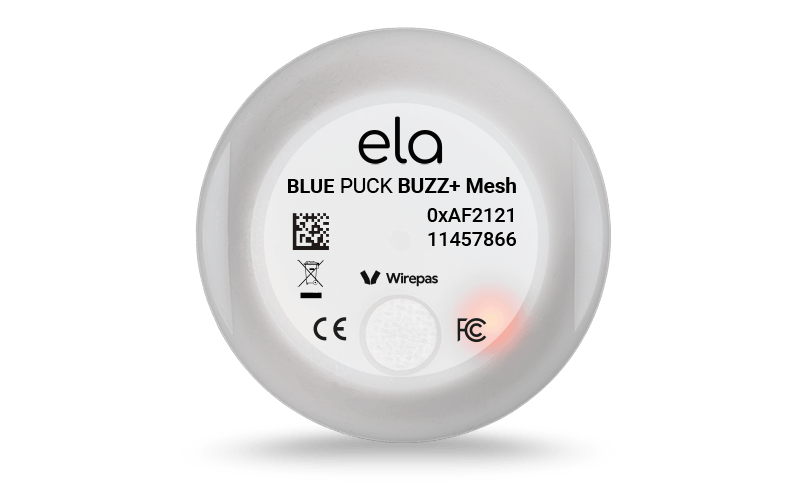 Discover our wide range of beacons & industrials sensors
for geolocation of tools
Asset tracking can be used to improve processes in all sectors of activity thanks to its adaptability. The possible applications are almost infinite. It is a technology that aims to simplify the work of operators by automating certain low value-added tasks, allowing them to gain in efficiency and productivity. It is a win-win solution for both the employee and the company.
Do you want to know more about the benefits that asset tracking can bring to your company? Our experts are at your disposal.